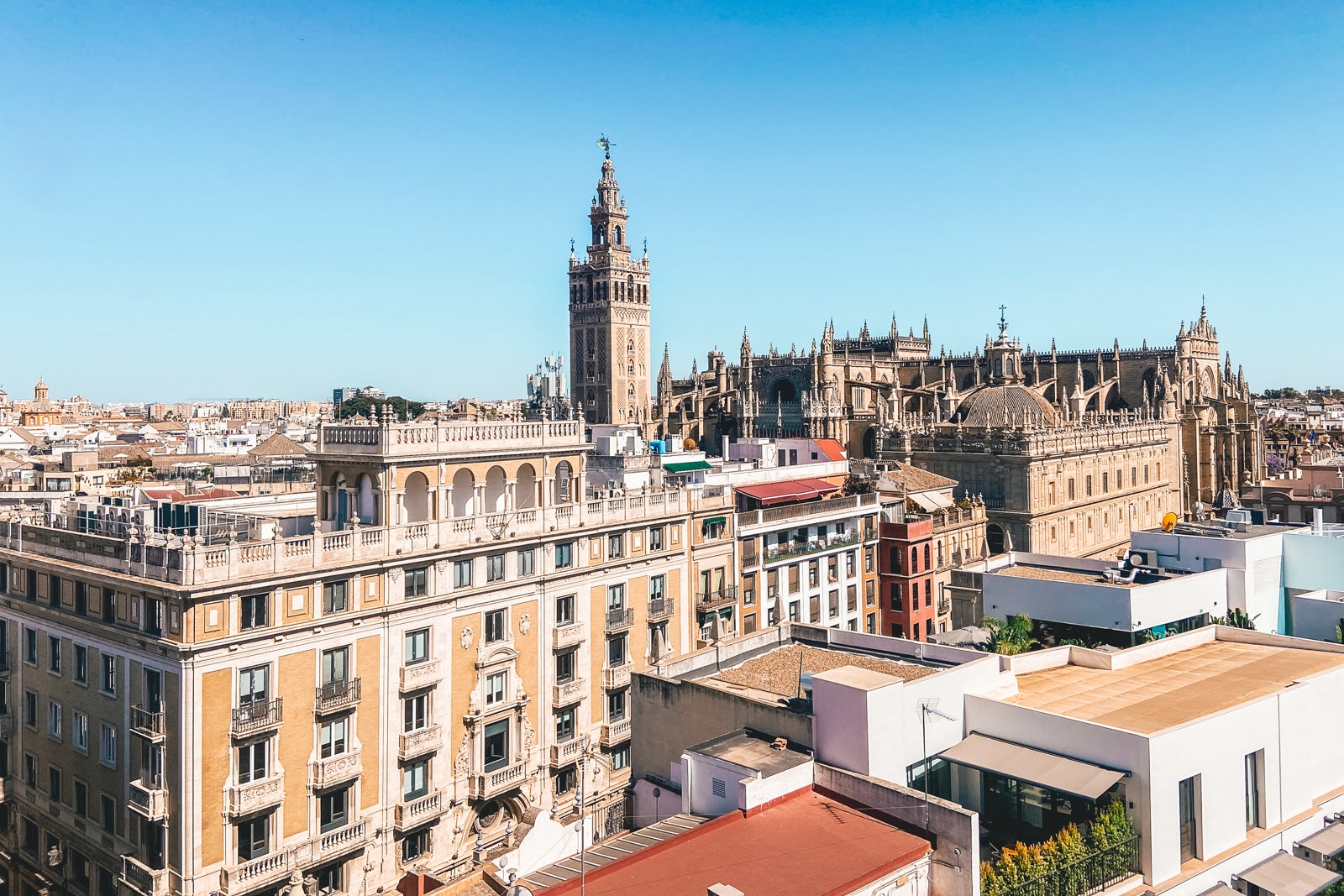 Beautiful design, incredible location: A review of the Querencia de Sevilla, Autograph Collection
Like many travelers who visit Spain, my first two trips to the country were to its biggest cities: Madrid and Barcelona.
My third visit came after booking an off-peak award rate in business class on Iberia from New York to Madrid (further improved by transferring points from American Express Membership Rewards to Iberia Avios during a 40% transfer promo).
So where does someone who's been to Spain's biggest cities go next?
I decided on the Andalusia region of southern Spain after it caught my eye as an ideal vacation destination. It is a beautiful area known for flamenco, tapas and Moorish architecture with smaller cities (which I hoped meant fewer tourists).
It also has well-connected public transportation making it easy to visit multiple regional destinations and a unique history including the Moorish rule of the region from the 8th through 15th centuries.
I decided Seville would be my first stop on a multi-city visit to the region.
I didn't have a ton of choices when it came to hotels affiliated with the major hotel loyalty programs for earning points by paying cash or redeeming points for an award stay. I typically prefer to stay in a Hyatt or Hilton hotel when traveling, as I have top-tier elite status with both programs.
However, there are no Hyatt hotels in Seville, and Hilton only has a Hilton Garden Inn in the northern part of the city, which seemed like a less-than-ideal location for a first-time leisure visitor.
Marriott Bonvoy has the largest presence in Seville with six hotels. A handful of them are in the heart of the historical center, including the majestic Hotel Alfonso XIII, a Luxury Collection Hotel and the newly opened Querencia de Sevilla, Autograph Collection. You can't go wrong with either location-wise, as both are within walking distance of many major tourist sights.
Sign up for our daily newsletter
The newness of the Querencia de Sevilla — it opened in April 2022 — and the fact that I could only find a single review online as I was looking for a hotel to book intrigued me enough to plan a stay. That turned out to be the right decision and a great way to begin my trip.
Here's what I experienced at Marriott's Querencia de Sevilla, Autograph Collection.
Booking
My stay at the Querencia de Sevilla was 243 euros ($256) per night during my June visit, just about two months after the hotel opened.
Hotel rates here run the gamut, from as low as 124 euros ($130) per night during the slower summer season (when temperatures in the area can get quite hot) up to over 400 euros ($422) on a handful of nights throughout the calendar. However, most nights are in the mid-200 euros range (around $260).
Award nights range from 40,000 to 50,000 points per night, though some nights go up to 63,000 points.
This hotel could be an ideal use of a 35,000-point annual reward night certificate that you can top off with up to 15,000 points earned from a Marriott Bonvoy Business® American Express® Card or Marriott Bonvoy Boundless Credit Card.
Location
1 of 2
SENITRA HORBROOK/THE POINTS GUY
I arrived at the Seville Airport (SVQ) on a domestic flight from Madrid and headed out of arrivals to the easily identifiable stop for the EA bus line, which goes from the airport to the city center in about 30 minutes.
Tickets are 4 euros (around $4) for a one-way journey and 6 euros (around $6) round trip and I paid cash on the bus when it arrived. After exiting the bus at the Paseo de Las Delicias stop, it was a quick 10-minute walk to the hotel.
Because I traveled with only carry-on luggage, I did not mind the short walk from the bus stop to the hotel. Another option would have been to exit the bus at an earlier stop and switch to the tram, which stopped just a few hundred feet from the hotel entrance.
An UberX ride would cost approximately 22 euros (about $23) for the 20-minute ride. If you're arriving in Seville from another city by train, the EA bus also has a stop at the Santa Justa station.
I found the hotel to be perfectly located within short walking distances to the places I wanted to see in Seville, including five minutes to both the Seville Cathedral and Royal Alcazar and 20 minutes to Plaza de Espana. There were also plenty of nearby shops and restaurants to explore just steps from the hotel entrance.
Check-in
1 of 2
SENITRA HORBROOK/THE POINTS GUY
I walked into the Querencia de Sevilla at around 1:30 p.m., which was slightly before the 3 p.m. check-in time. Instead of a check-in counter, the lobby has two desks, each with a staff member to assist guests.
The lobby was small and brightly lit with Spanish artwork lining the walls. With only two desks, it felt like a space designed to quickly usher people in and out, not a space to linger or mingle.
When I arrived, one staff member was assisting customers at her desk, but I was immediately greeted and invited to sit down with the other front desk agent.
The service was friendly, and the agent mentioned my Bonvoy Gold Elite status and the 500 bonus points I'd receive as a welcome amenity. I inquired about the newness of the hotel and the agent confirmed that yes, the hotel was newly opened and shared that the hotel was designed in Spanish traditional style.
I had booked a Deluxe Vista Patio guest room, but I asked if it was possible to receive an upgrade and I was given a Gran Deluxe Balcony room.
In checking rates on future dates, I observed that the Gran Deluxe Balcony room typically sells for around $100 more than the Deluxe Vista Patio room. The room was not ready at 1:30 p.m., but I was able to leave my luggage and return an hour or so later.
Something to note: Should both check-in desks be occupied when you arrive, or if you want to hang out in the lobby for any other reason, there is only a small seating area with two chairs.
After checking in at the desk, I wanted to remain in the lobby to use the Wi-Fi on my phone to search for nearby restaurants for lunch, but both extra chairs were taken, so I wound up just standing near the door. There is more seating one floor up, but I did not realize it at that point.
Room
1 of 5
SENITRA HORBROOK/THE POINTS GUY
The Querencia de Sevilla comprises 95 rooms and 17 different room types. My room, number 402, was located on the fourth floor just around the corner from the elevator. The room felt a bit narrow on entry and there was a closet covered by a green velvet curtain immediately to the right and a small room with the toilet to the left when I walked in.
1 of 2
SENITRA HORBROOK/THE POINTS GUY
The vanity, bathtub and shower were located in the narrow entry hallway. Next to the curtained closet was a green vessel sink, wooden countertop and lighted mirror. The bathroom felt like one cohesive space with the rest of the room, but there was a sliding wooden door to close off the bathroom area for privacy.
However, one big negative to the room's layout is that if one guest is using the bathroom area (the sink, shower or bathtub) and has closed the sliding door, anyone else staying in the room would not be able to exit. And if someone is entering, they could potentially walk in on the person using the shower or bathtub.
On the countertop, there was a tray of toiletries, including a shaving kit, vanity set, body lotion, shower cap, shoe polish, nail file and two dental kits. Under the counter, a shelf held towels and a hair dryer.
1 of 4
SENITRA HORBROOK/THE POINTS GUY
A large enclosed area with a bathtub and separate shower was across from the sink. The glass doors were adorned with a green floral design, which was a nice touch. The green tiles behind the bathtub also added a pop of color to the space. The shower featured both a handheld showerhead and a ceiling-mounted rainfall showerhead, as well as individual toiletries from the French brand Panier des Sens en Provence.
Notably missing from the bathroom area was a hook to hang towels and clothes.
1 of 3
SENITRA HORBROOK/THE POINTS GUY
A cabinet next to the sink area held a Krups coffee maker and minibar amenities. The minibar included nuts, potato chips, chocolate candy, wine, beer, juice, soda and both sparkling and still water.
1 of 6
SENITRA HORBROOK/THE POINTS GUY
Despite the narrow entry, the room itself felt quite spacious. It featured a king-size bed with a velvety purple scalloped headboard, flanked by a nightstand table on each side. Lamps hung above each nightstand and the wall behind the headboard was accented by gray floral wallpaper. A gray loveseat with two throw pillows was beside the bed.
Both the mattress and the pillows were extremely comfortable — great to sink into after a day of walking around town and hard to tear yourself away from in the morning.
On one nightstand, there were two complimentary bottles of water. There was also a decorative pink hand fan — I wasn't sure if the fan was mine to keep or part of the room's decor, so I ended up leaving it behind. There were light switches and outlets, including USB ports, on each side of the bed. The power outlets need a European adapter to use.
1 of 2
SENITRA HORBROOK/THE POINTS GUY
The room also included a wooden table with two purple chairs next to the love seat, and a floral rug underneath. This seating area could be ideal as a desk space for working or as a place to eat if needed. Across from the bed, there was a wall-mounted television and a long bench underneath the TV. The balcony door was located beside the love seat and table and chairs. It could be closed off by a sheer curtain and blackout curtain.
Having a balcony was an unexpected highlight. The balcony space wasn't large enough for chairs, but it was nice to be able to stand outside for fresh air and take in some city views looking out onto Avenida de la Constitucion, including the historic La Adriatica building. This domed structure was built between 1914 and 1922 for the La Adriatica insurance company and was designed by Spanish architect Jose Espiau y Munoz.
Food and beverage
1 of 5
SENITRA HORBROOK/THE POINTS GUY
Since I only have Bonvoy Gold Elite status, free breakfast was not included in my stay. During check-in, I was offered a "deal" for breakfast at 16 euros (about $17) per day, but I had to agree to it then and there. If not, I would be charged the full price of 30 euros (about $32).
I raised concern that breakfast hours were 7:30 a.m. to 10:30 a.m., knowing that on my departure day, I needed to leave no later than 7:30 a.m. to catch the train to my next destination. I was assured that I could take some breakfast items to go on that day, which I did.
Breakfast was served on the first floor above the lobby. The seating area was large and comfortable with wooden tables and plush green velvet chairs. It was buffet-style with fruit, cold Spanish meats, cheese, bread, pastries and cereal. I was not offered or informed of any hot food or a la carte options. The breakfast area was not busy when I visited around 10 a.m.
For lunch, dinner and cocktails, the breakfast space becomes La Maestria restaurant and bar, offering regional Andalusian cuisine, but I did not eat any additional meals at the hotel. I do wish I would have allotted more time at the end of the day for cocktails from the bar to take up to the rooftop.
Amenities and service
There were ample indoor and outdoor seating areas on the first floor above the lobby level.
1 of 4
SENITRA HORBROOK/THE POINTS GUY
One of the hotel's main highlights was the rectangular-shaped rooftop pool and terrace above the sixth floor, which was the top level.
1 of 7
SENITRA HORBROOK/THE POINTS GUY
The pool was not particularly large, so it might be less pleasant if crowded. It was unclear whether food and drink service was available in the pool and terrace area. I did not see any hotel staff in the pool area during my short visit. The rooftop terrace also had fantastic 360-degree city views, including a view of Seville's landmark cathedral.
The gym was small but bright and clean. There was BH fitness equipment, including two bicycles, two treadmills and one elliptical machine. A set of weights was in the corner of the room next to two chairs.
Every hotel staff member I interacted with — from the doormen and bellhops to the check-in staff — was friendly and helpful.
Overall impression
I found the Querencia de Sevilla, Autograph Collection to be a great hotel, especially for a first-time visitor to Seville.
The rooms were spacious and nicely decorated. Also, the Andalusian-inspired florals, deep purple decor in the room and green touches in the bathroom area felt luxurious. The area is easily walkable and perfect for sightseeing, and even my room offered charming city views. Should I find myself returning to Seville, I would definitely stay at this hotel again.