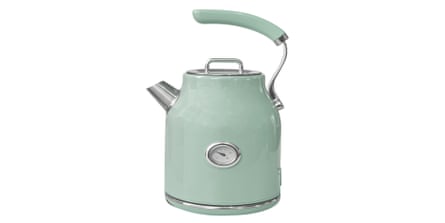 From budget art to disco planters: 20 cheap ways to give your home and garden a boost | Homes
Homes
1. Fake your flowers
Fresh blooms are lovely in the moment, but faux flowers last for ever. Creative director Susanne Thun keeps silk and synthetic stems in a box to bring out for different occasions or when a table needs a boost. "Only use good quality ones, though," she warns. Everbloom London's collection of single-stem tulips, hydrangeas and foliage are excellent quality and value.
Everbloom London hydrangea stem, £8.95
2. Upgrade the essentials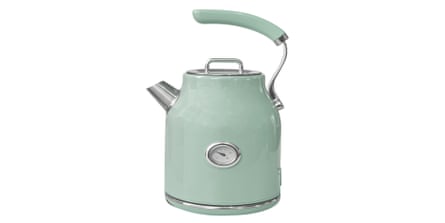 Think about the pieces you use every day and consider an upgrade, from a powerful hairdryer or a beautiful kettle to good quality bed linen and towels.
Dunelm Retro Seafoam kettle, £45
3. Hang other things as well as pictures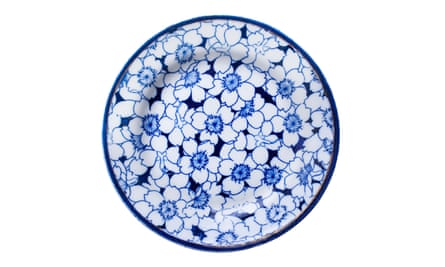 Susanne Thun suggests displaying decorative quilts, rugs and even plates on walls – the more colours and textures, the better. If your plates are just for eating off, you can buy sets from curators with impeccable taste, like Sasha Wilkins.
Found by Sasha Wilkins vintage plates, from £10 each
4. Age a mirror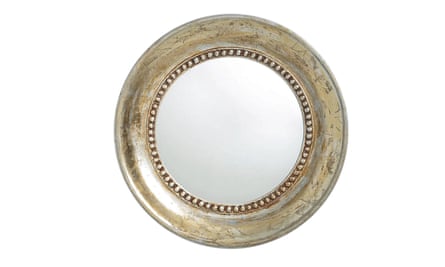 If your budget won't stretch to a gorgeous antique "over-the-fireplace beauty", try doing the ageing process yourself, says designer Amy Davies. She uses the paint stripper and bleach process outlined in the new Interior Design Masters book.
La Redoute ornate mirrors, from £80
5. Get storage smart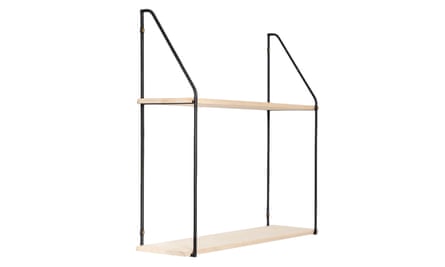 "Clutter can be the enemy of a happy and restful home, but clearing it away and getting organised doesn't have to be expensive," says Nash. One way to avoid clutter chaos is to get things off the floor. String shelving is ideal for propping up frames, books, even loo rolls – plus, a happy home is one that can be hoovered easily, too.
Sklum wood and steel shelf, £39.95
6. Paint your vintage furniture
Give your pre-owned pieces a new lease of life with a lick of paint. If time and money are short, just add a pop of green or hot pink into the grooves of a wooden desk, or paint the drawers of an old tallboy. Find more ideas from vintage marketplace Vinterior's collaboration with Farrow & Ball.
7. Scentscape your home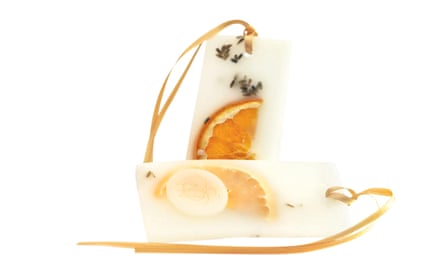 Just when you were getting used to tablescaping, along comes scentscaping – "using scent to divide different rooms or areas of the house, or to zone different time periods in your mind", explains Jen Nash, design excellence manager at Magnet. Infused wax tablets are often cheaper than scented candles and can be placed or hung in wardrobes, on walls or in bathrooms.
Santa Maria Novella wax tablets, £26 for two
8. Deck your walls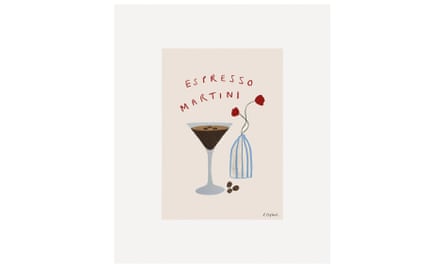 Original artwork no longer costs as much as a house deposit thanks to websites like Narchie, where you can find independent artists and illustrators all over the UK, and Glassette, which runs a regular Art Kiosk pop-up shop. Framed cartoons, recipes, still lifes and tourism posters (try transport and tourism posters too) work everywhere from the kitchen to the loo.
Rose England London print, £40
9. Get the glow

Changing the lighting can have a big impact on our mood and how a space feels. One easy way to do it is with a portable light. Hay's LED neon tube light, which comes in multiple colours, can be moved easily from room to room. Or switch lampshades to make a room brighter or cosier.
Hay LED neon tube light, £65
10. Turn an Ikea cabinet into a designer piece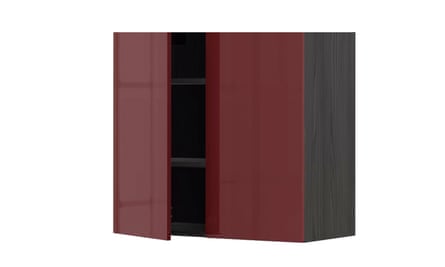 Introducing a statement piece of furniture doesn't need to cost a fortune. JJ Martin, founder of fashion brand La Double J, had an Ikea kitchen cabinet mounted on a wall in her apartment and sourced a piece of Murano glass to sit on top. The result looks like something from Architectural Digest rather than the Scandi flat-pack favourite.
Ikea Metod wall cabinet, £132
Gardens
1. Go bling
Don't forget your garden when it comes to a glamorous glow-up. The high street is great for pieces with the wow factor. From Grecian-bust plant pots and brass watering cans to disco-ball hanging pots, the shine of something unusual or a little bit bling rubs off on everything around it.
Anthropologie Gianna Grecian Bust Pot, £56; Graham & Green brass watering can, £54, grahamandgreen.co.uk; Etsy disco ball hanging flower pot, from £24, etsy.com
2. Bring your holiday colour home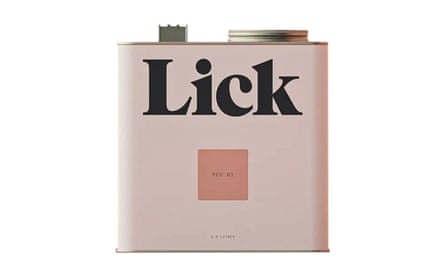 "When painting, draw inspiration from your favourite destination for your colour palette," says Davies, who conjured a Mediterranean escape with her own warm terracotta wall. "The cobalt blue of Greek island rooftops, or a palate-cleansing lemon reminding you of your sunny Sicilian days, also works well."
Lick environmentally friendly deep terracotta paint, £45 for 2.5l
3. Reclaim your yard

"Reclamation yards can be intimidating, but they can be a magnificent place to pick up salvaged and upcycled garden materials," says interior designer Amy Davies. She recommends choosing scaffolding boards and sanding them down to create a garden table or shelving. "All sorts of furniture, from bathtubs to sculptures or even telephone boxes, can be repurposed in your garden."
4. Level up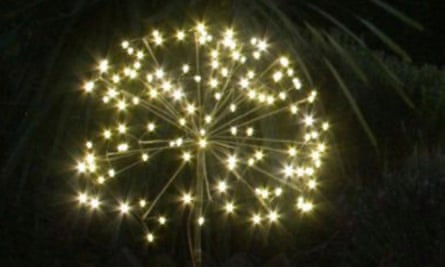 "A change in level, however small, makes a big difference to your garden," says garden designer Bettina Sytner – and it needn't cost the earth. She advises creating a "step" in the lawn using a broad wooden support ("10cm is sufficient to make a visual difference") and building up the ground behind it using a bag of compost to gradually join it with existing lawn. Finish by planting with seeds or decorating with solar lights.
Graham & Green dandelion solar lights, £29.95
5. Make keepsake scarecrows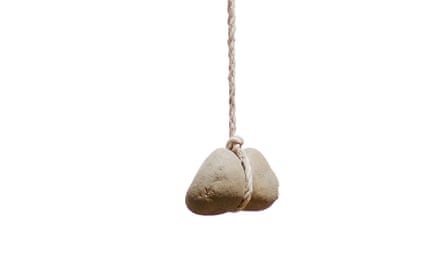 Architect Claudia del Colle collects driftwood, pebbles and other seaside finds, binds them in ribbon and hangs them off the walls of her terrace. Not only do you know they are weather-proof, but they'll act as modern-day scarecrows for balconies and gardens.
6. Be a master of disguise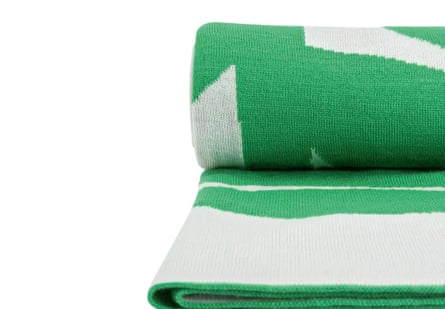 Don't get rid of your outdoor chairs if they have plenty of life in them but your taste has changed. Drape matching blankets over them to achieve a uniform effect (these can double up as throws to keep shoulders and knees warm when the temperature drops). If a matching set of six exceeds your budget, buy a roll of fabric from your local haberdashery or fabric supplier for a fraction of the price, and cut to size and quantity at home.
Habitat floral pattern throw, £18
7. Step on it

Bring some colour to a small balcony or patio with an outdoor rug. Wallpaper house Divine Savages recently collaborated with Beija Flor on a collection of phthalate-free, recyclable vinyl rugs printed with bold blooms.
Bloomin' Marvellous Vinyl Rug, from £60
8. Raise your game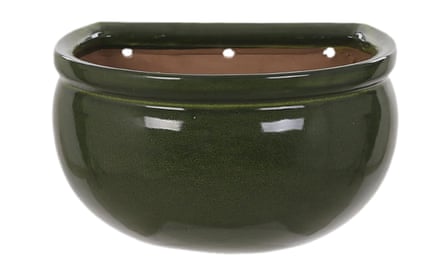 If floor space is at a minimum, bring your plants and herbs to eye level. Wall pots also make a blank wall more interesting – go for small to medium-sized pots so they don't get too heavy. Ladders can also create multiple levels and give a sense of space and height.
Woodlodge wall pot, £22.99
9. Create a kids' corner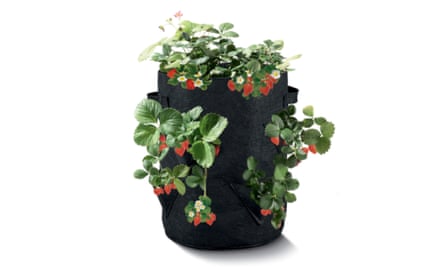 "Creating an area where children can have little tools and grow flowers, berries and salads is very joyful and healthy," says Sytner. String a sail from a wall (or use camping pegs and poles in the grass) to protect your chosen patch from rain and rays, and fill it with grow bags which are easy on space and almost certain to reap rewards. Strawberries, tomatoes and rocket are all safe bets.
Lidl strawberry grow bag, £4.99 for two
10. Get matchy matchy for less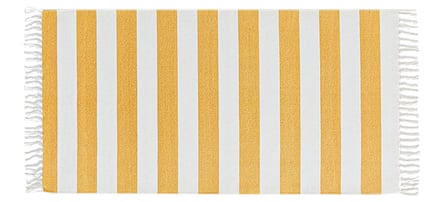 If the budget won't stretch to outdoor cushions, take a leaf out of creative director and Collagerie co-founder Lucinda Chambers' book and pick up inexpensive hessian rugs in different patterns and – depending on your craft skills – sew or staple them into shape. Leave a couple as rugs and you have an expensive-looking set.
H&M Home striped cotton rug, £17.99