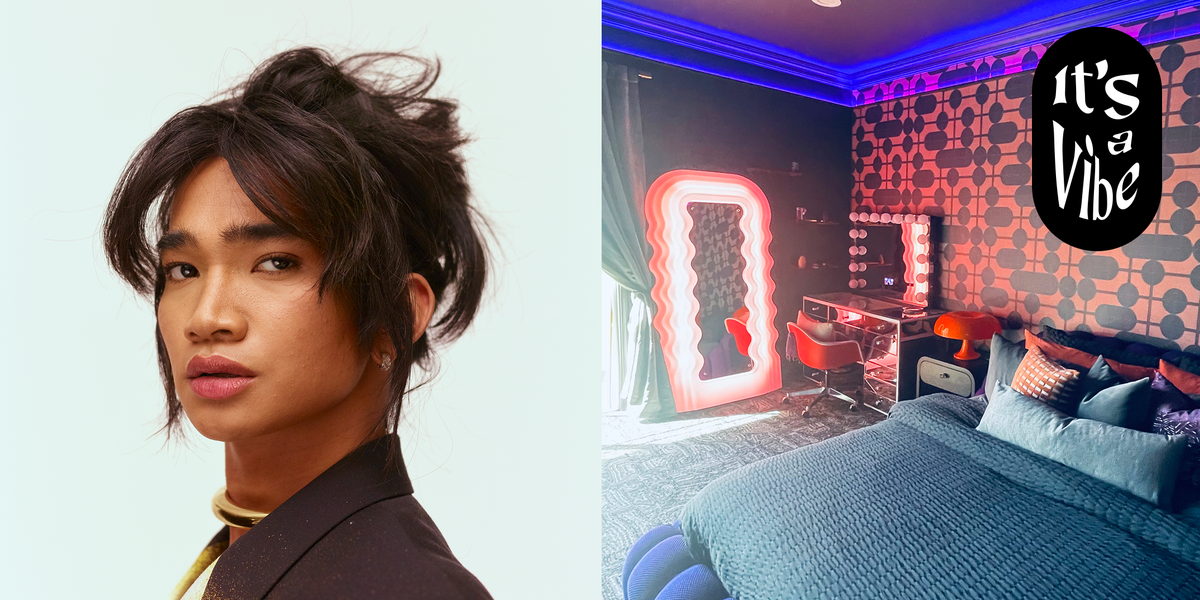 Bretman Rock, Beauty Influencer, on How He Integrated His Filipino and Hawaiian Roots Into His Home
Going out on a limb here, but it's probably pretty rare in celebrity land to publicly describe your bedroom vibe as "mid-century modern sex dungeon." But OG influencer and beauty guru—who contoured his way to fame on YouTube before getting his own MTV show, a book deal, and multiple Big Beauty Brand collabs—is nothing if not true to himself, and he's worked hard to make sure every inch of his Hawaii home reflects his unique personality. That means representing his Filipino and Hawaiian roots, love of makeup, and Leo nature through his design choices, and doing it damn well.
"I feel like the rest of my house is bright and open-concept, but my bedroom is giving cave," Bretman says of the dark and moody spot, which has low ceilings and a sexy fireplace (which is, unsurprisingly, pretty uncommon in Hawaii). "When I'm in here, I feel like I'm in outer space," he adds. "It gives astral projection alien superstar energy."
Scroll down to find out *exactly* how he got the vibe.
ALL ABOUT THE LOOK
Your followers know you love crystals. How many do you have in your bedroom?
The majority of my crystals are in my attic. I try to keep them pretty far away because sometimes they give me weird dreams. I do have carnelian right next to my vanity though. Its coloring looks like fire, and as a Leo, I love that.
You have lots of cool furniture, but is there one piece you consider a major flex?
My bed. I ordered it in April, and I didn't get it until September. It taught me that patience is a virtue, because it was completely worth the wait.
Any surprising tchotchkes?
I just got a '90s lava lamp!
What's one splurge (besides that bed!!) that was worth every penny?
I had been eyeing this mirror for a while, so when I was with my interior designers, it was the first item on our list. It's not an original Ettore Sottsass for Poltronova Ultrafragola mirror [editor's note: IYKYK], but for a dupe, she was still hella pricey!
You've got a killer art collection throughout your house. Do you have a fave piece in your bedroom, specifically?
It's in my bedroom entrance area—a painting called "In My Dream" by Arman Bhel. It's a soil canvas from a native painter in the Philippines, and I love that there are tigers, snakes, and a hawk. I never realized how many different shades of soil there are—he collects it all from different landscapes around the Philippines and uses it in his work.
If you could pick the piece that's the most "Bretman," which would it be?
My bedside lamps were very much designed for me. They're orange and they look sort of like water droplets. I like to think I'm shaped just like them.
What books are on your nightstand right this very second?
That's funny because I actually only have two books on my nightstand right now and one is mine. The other is Becoming, by Michelle Obama.
It's probably safe to assume you own lots of beauty products. Where do you store them?
I have this really cute vanity on the right side of my bed—it just screams Paris. I love that it has a built-in Bluetooth speaker too.
As a content creator, you know that good light is important. What's your favorite piece of lighting in your room?
It's the natural light for me! The light that comes through my windows is ideal for content. I just use that little suction cup phone holder they sell for your car on my window.
You're proud of your Filipino heritage and Hawaiian upbringing—is there anything from either of those cultures that you've incorporated into your room?
Of course! I have incredible charcoal sheets that were made by a Hawaiian artist named Jalene Kanani, of Noho Home. (She's actually making me custom sheets and pillowcases soon!) My heritage and upbringing are everywhere in my house, and tried to work with local artisans as much as possible when furnishing my room.
Your pets are obviously very important to you. What's one pet product that lives in your room?
These floating beds are all over my house. The ground can get really hot here, so I like them being elevated.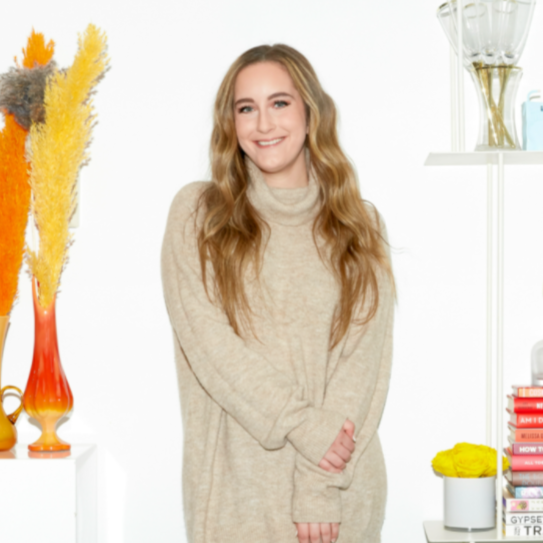 Associate Lifestyle Editor
Hannah Chubb is the associate lifestyle editor at Cosmopolitan, covering all things home, travel, food, health, career, and more. She spends pretty much every hour of every day curating the internet for the best new products, trends, and travel destinations. You can typically find her looking for houses she can't afford on Zillow or Airbnb, planning her next meal before she gets to the restaurant, or taking all of the Justin Bieber classes over and over and over again on Peloton. Follow her on Instagram.