Premiere: Bedroom Finds a Beautiful Home in "Better Friends," His Brutally Honest & Achingly Raw New Single
Bedroom's brutally honest and achingly raw "Better Friends" is a beautiful, soul-stirring soundtrack to inner reckoning: A candid confessional marrying his dream-pop-meets-indie-folk sound with a warm Southern tinge, and the perfect introduction to his forthcoming new album, 'Thread.'
Stream: "Better Friends" – Bedroom
---
I think the theme for that year was to take into account what and where is your home, and for me that's the South. The use of pedal steel felt like home, and helped spark this new chapter of Bedroom.
If you've been feeling overwhelmed lately – like your weary soul's been put through the wringer, hung out to dry, and it's still soaked in stress – just remember that you're not alone; you're never alone in that experience. "I'm back against a wall again," Bedroom's Noah Kittinger sings in his first single in nearly two years. "Never known to chase my friends." By nature, we humans have a tendency to isolate ourselves and cut others off when things get tough. We turn inward to fix (or ignore) our issues by ourselves; why make our worries someone else's problem? It's a nice thought, but in practice, that mindset generally prolongs a negative situation, making things worse while creating further separation and anxiety. Toxic cycles do have toxic results, after all.
Bedroom's new song feels like that very first step in the right direction. Kittinger's songwriting has always been intimate, but this time he's gone beyond the pale to create something of soul-stirring beauty. Brutally honest and achingly raw, "Better Friends" is a candid confessional marrying Bedroom's dream-pop-meets-indie-folk sound with a warm Southern tinge. It's an inner reckoning; a recognition that it's time for change, and a realization that brighter days may very well lie ahead after all.
I'm back against a wall again
Never known to chase my friends
Cutting nails against cement
Time will tell if I'm content
If I get up I'd be alone
I never wanna be at home
I can't seem to draw a line
Crossing lines to me seems fine
Atwood Magazine is proud to be premiering "Better Friends," the lead single off Bedroom's forthcoming fourth LP, Thread (set for release later this year). The longtime moniker for Nashville-based singer, songwriter, and producer Noah Kittinger, Bedroom's music is "charmingly DIY and incredibly naked," per our own writing back in 2019. What began over a decade ago in Kittinger's teenage years has blossomed into a reliable wellspring of uninhibited dreamy reflection; Bedroom is his vessel of vulnerability, a musical diary that has, to date, released three albums and one EP – all of which are well worth the listen.
"Better Friends" arrives nearly two years after the release of Bedroom's third album Stray, a soul-stirring record that spawned the singles "Count to Five," "Two," "Gulf," and "Spot." The new song comes amidst a concerted effort by Kittinger to reintroduce Bedroom as a "more mature and better version of himself as an artist," and along that vein, it does add some new elements previously unheard of in the Bedroom repertoire – in particular, the use of pedal steel guitar, which adds depth, color, and layers of visceral emotion to the listening experience.
"'Better Friends' was written in the fall of 2020, in a home up in the mountains of North Carolina," Kittinger tells Atwood Magazine. "I had been spending my summer that year not living so well, throwing out any self-care map I had for myself, sort of just fizzling out. I took a trip to Nantahala to just decompress a bit and focus on writing. By the second day, I had a loose demo that I sent to my friend Bennett Littlejohn. He sent back some pedal steel takes. At first it was kind of like "Eh, I dunno. This isn't me, is this me?" It felt fun, like a whole new texture to explore, so I ran with it. I think the theme for that year was to take into account what and where is your home, and for me that's the South. The use of pedal steel felt like home, and helped spark this new chapter of Bedroom."
Waking up at 1pm
A pounding head on me ascends
Recall everything I did
At 6pm I start again
Then I call up all my friends
I wish that I had better friends
We make a plan to strike at 10
Plans that never have an end
Kittinger describes Thread as the album he's "strived to release throughout his career" – one that incorporates everything from the softest acoustic elements, to the grandest, most consuming sonic productions. As its public introduction, "Better Friends" hints at this overall album vision; it's notable that the song employs that forlorn pedal steel in lieu of a sung chorus. That expressive guitar phrase – and an accompanying sense of absence and yearning – is all that separates the two verses from one another.
"Better Friends" is also something of a sonic exploration. While its sung portion ends around the three minute mark, the song itself runs for nearly five minutes – and it is in those final two minutes that Kittinger's ear for experimental delights shines brightest. Everything drops out except for his acoustic guitar, which picks up speed as it teases out a gentle, hypnotic pattern. Additional instruments slowly make their way back into the mix, adding texture and flavor, all leading up to an enchanting and emotionally potent finale that feels both jarring and soothing, all at once.
"This record is the result of many years of dedication to the craft and to continuing this career, of me being pretty creatively lost for a long time and then finding my new self in music that I was searching for," Kittinger says of his upcoming album. "It's a testament to independent artistry. Bedroom isn't an industry-designed project. Thread is a very organic body of work that is the result of many years of just pushing."
As tempestuous and tumultuous as it is comforting and serene, "Better Friends" is a stunning reintroduction to Bedroom in 2023 – and one that all but ensures we'll be keeping close tabs on him throughout the lead-up to Thread. Stream this beautiful new single exclusively on Atwood Magazine!
— —
Stream: "Better Friends" – Bedroom
— — — —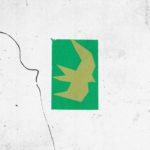 Discover new music on Atwood Magazine
📸 © Alex Berger
:: Stream Bedroom ::
---