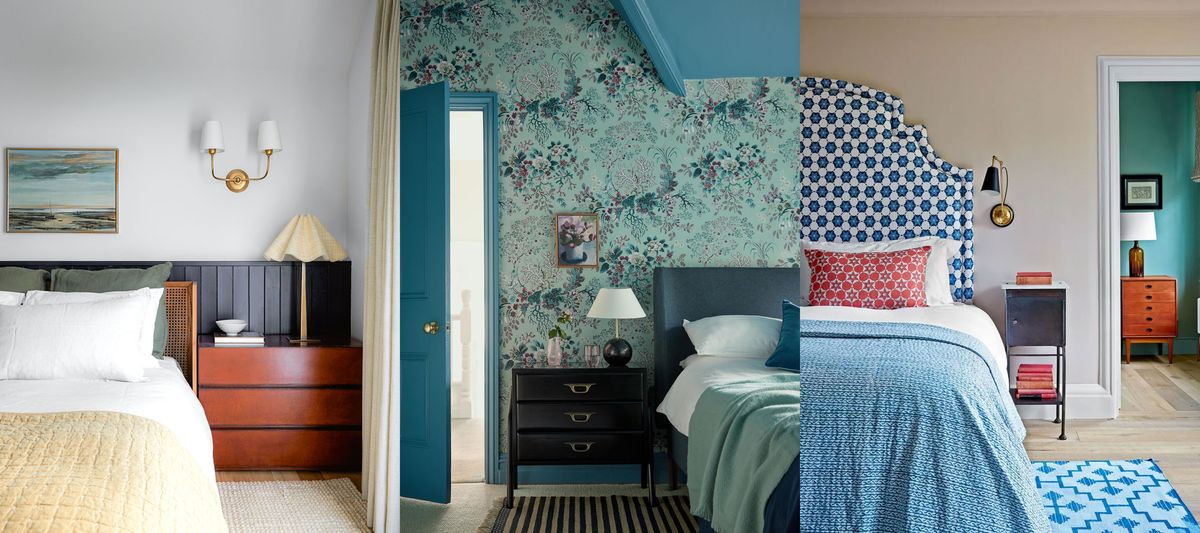 14 fresh ideas for a beautiful bedroom |
Designers and trend experts have share with us their favored bedroom trends for 2023, from paint colors en vogue to this year's most popular furniture silhouettes, wallpaper designs, and more.
An important room in the home where you start and end each day, your bedroom should be a restful sanctuary of calm and comfort, as well as a joyful showcase of your style. 
When planning your bedroom ideas, the classics will always remain, such as crisp, quality bedding, good accent lighting and practical clothes storage, but there will always be an array of wonderful new interior design trends to explore that can provide you with some stylish inspiration for your space.
The biggest bedroom trends for 2023
Whether you're looking into giving your existing bedroom a much needed refresh, or are starting from scratch in a new space, explore our top bedroom trends so you can create the perfect scheme for 2023.
1. Embrace a calming and cocooning color palette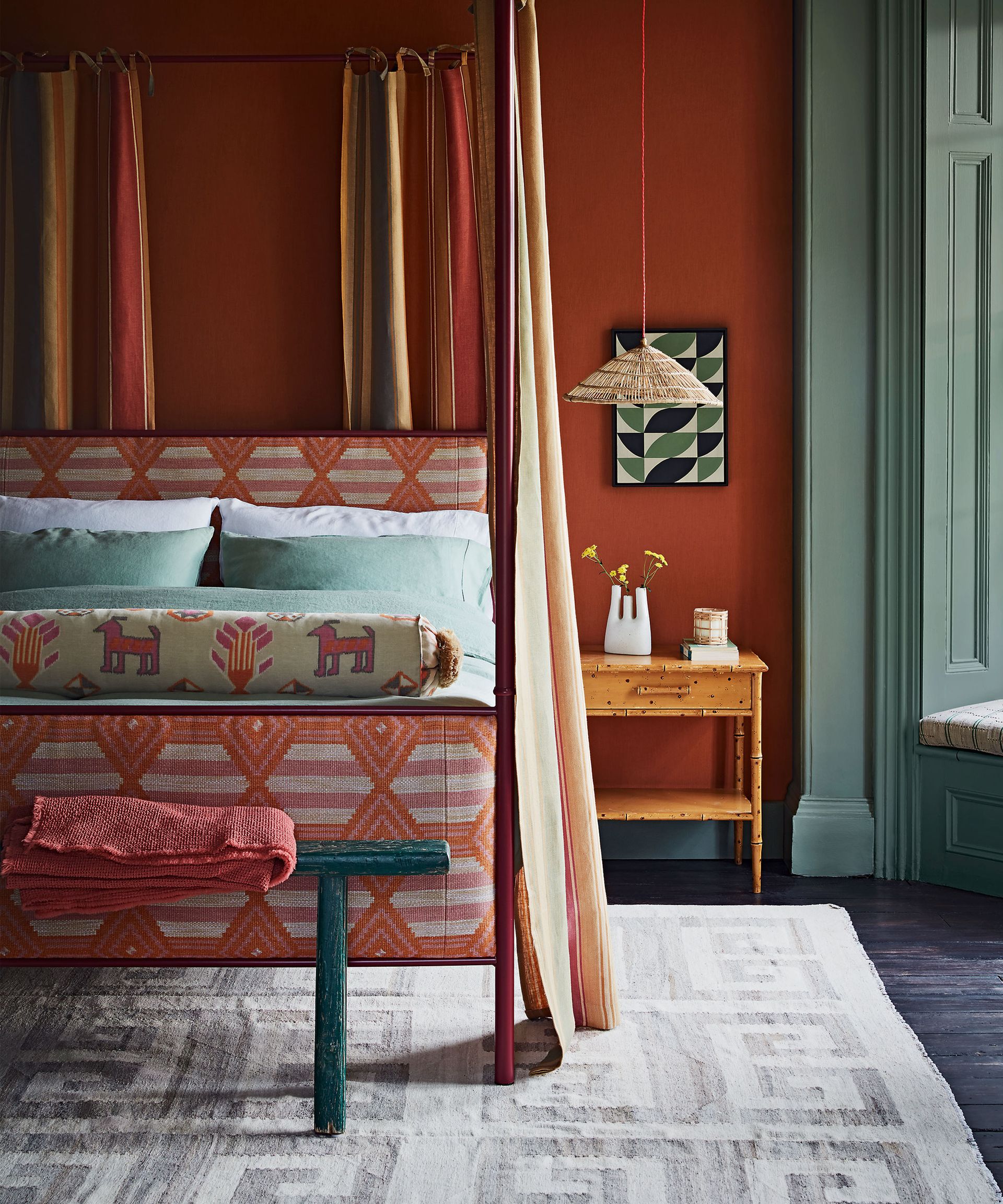 Camilla Clarke, creative director at Albion Nord (opens in new tab) says, 'going into 2023, your bedroom should be the ultimate sanctuary space. Fully embrace cool and calming colors, particularly soft blues, and deep olive greens. Pairing these shades with warm lighting creates a feeling of calmness and serenity.' 
Sleep experts and psychologists are in agreement that light blue is often the color that helps sleep the most, however, many of us are wanting to take bigger risks when it comes to color in our homes, and experiment with more unique color pairings and bedroom paint ideas. 
Calming colors do not always have to be light and bright in a bedroom, sometimes these lighter colors can make a space feel a little cold. Dark, moody and earthy palettes can work just as well in creating a warming, comforting and cocooning space that helps us feel more relaxed and snug.
This colorful bedroom above may not be for everyone, but we love the adventurous use of color, and how the union of red and green establishes both a fresh and grounding feel.
2. Establish an eclectic mix of the old and new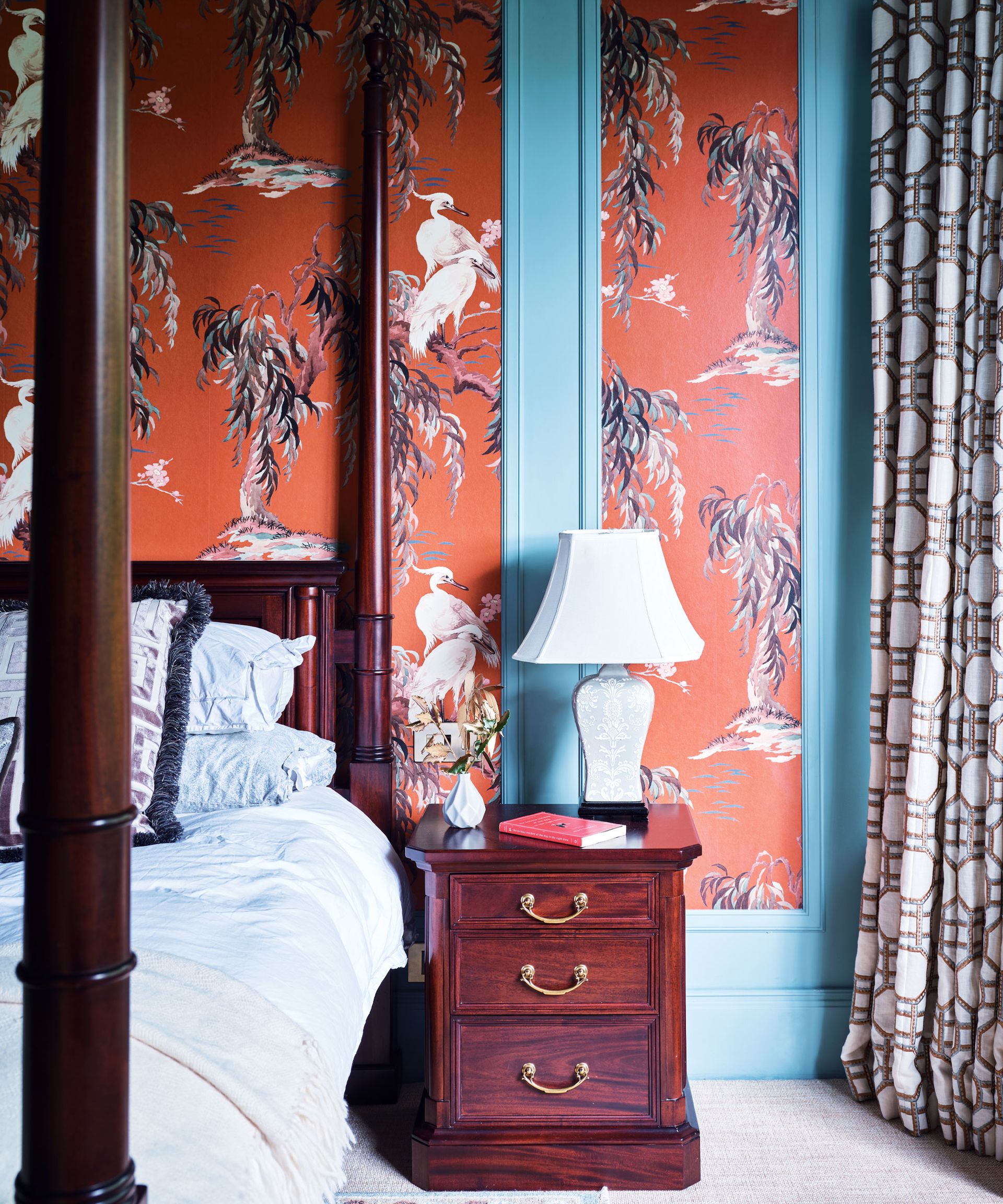 Charu Gandhi founder and director of Elicyon (opens in new tab) says, 'In 2023, I believe we are going to see an integration of vintage and contemporary design aesthetics to create one cohesive scheme throughout a room or home'.
From paint trends embracing a more heritage feel, to the surging popularity of upcycling second-hand finds and purchasing antique furniture pieces, styling your bedroom with a mix of the old and new will create a more eclectic and unique scheme that celebrates styles of the past with designs of the present.
British Interior Designer, Matthew Williamson (opens in new tab) also supports this and says, 'as we venture into 2023, I imagine we will see a resurgence of antique sourcing, reclaiming, restoring and upcycling. My favorite interiors to work on are those which don't necessarily start from scratch or have a huge budget but those which have been designed with all these aspects in play. Considering what you have already and seeing it reworked in a different way can be so rewarding, more personal, and just as effective.'
From a statement antique dresser, to more traditional patterns used across upholstery and wallpaper combined with vibrant, modern paint ideas, exploring more than one style or design influence will make for a more diverse and characterful bedroom space.
3. Prioritize sustainable design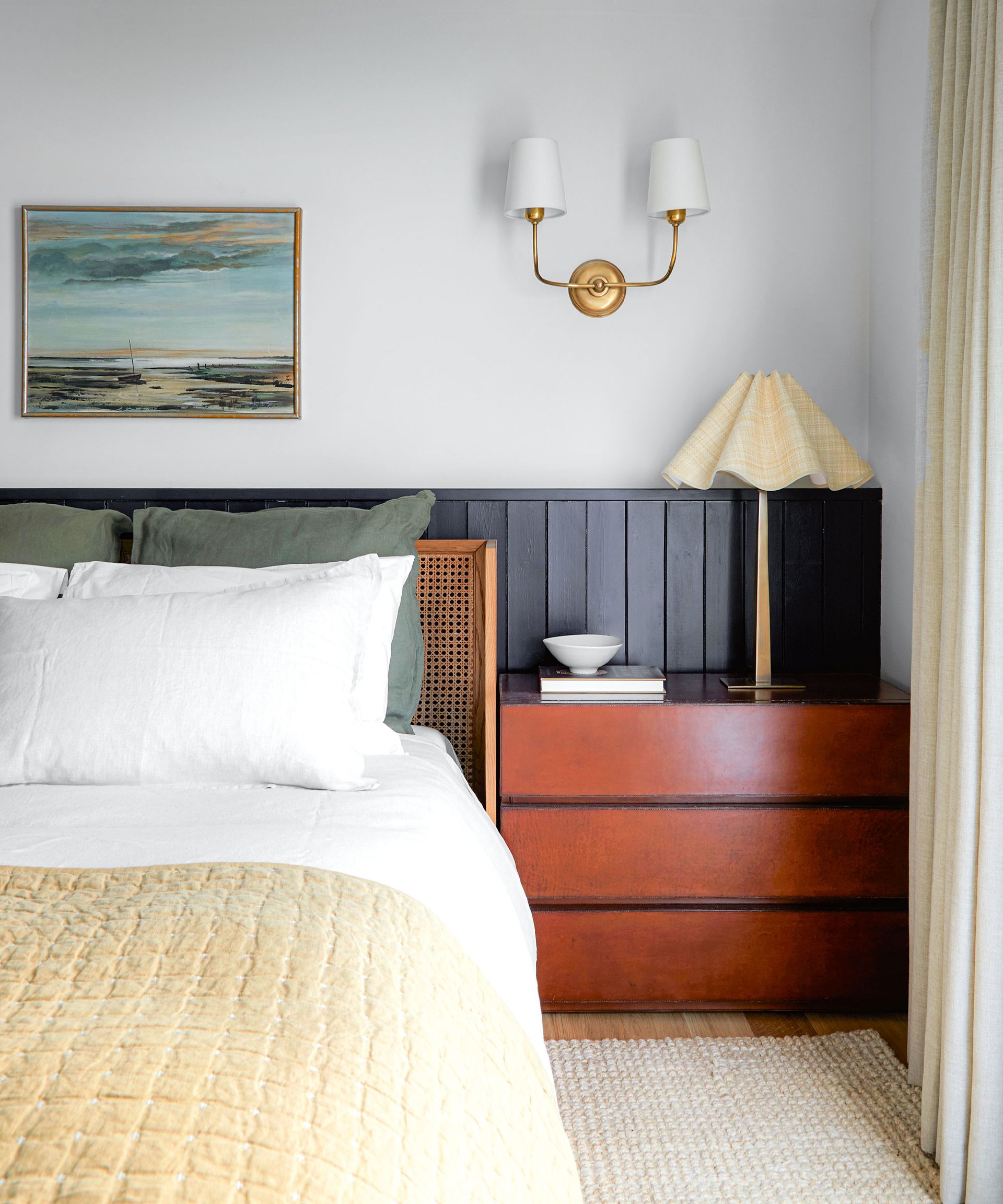 More a priority for designers rather than a trend, championing sustainable interior design is more important than ever. 
As consumers, we are becoming more aware of a product's environmental credentials, and are choosing to fill our homes with investment pieces that will last, as well as designs crafted from natural, recyclable and sustainable materials, as a way to help the environment and minimize waste.
Experts from home decor brand The Citizenry (opens in new tab) share with us, 'according to our data, our top trending materials of 2022 were all natural. High-quality sustainable woods including hinoki cypress from Japan and granadillo or mahogany from Guatemala. Textured, natural materials also had peaked interest including hand-braided palm baskets and rattan and wicker furniture. We see these materials continuing to uptrend into 2023 with an addition of bold marble and unique statement stone that nods to traditional European influences.'
From the timeless use of wood, to locally handmade textiles and pre-loved furniture, there are many steps we can take in our homes to create spaces that are long-lasting and environment-friendly.
4. Pick a statement wallpaper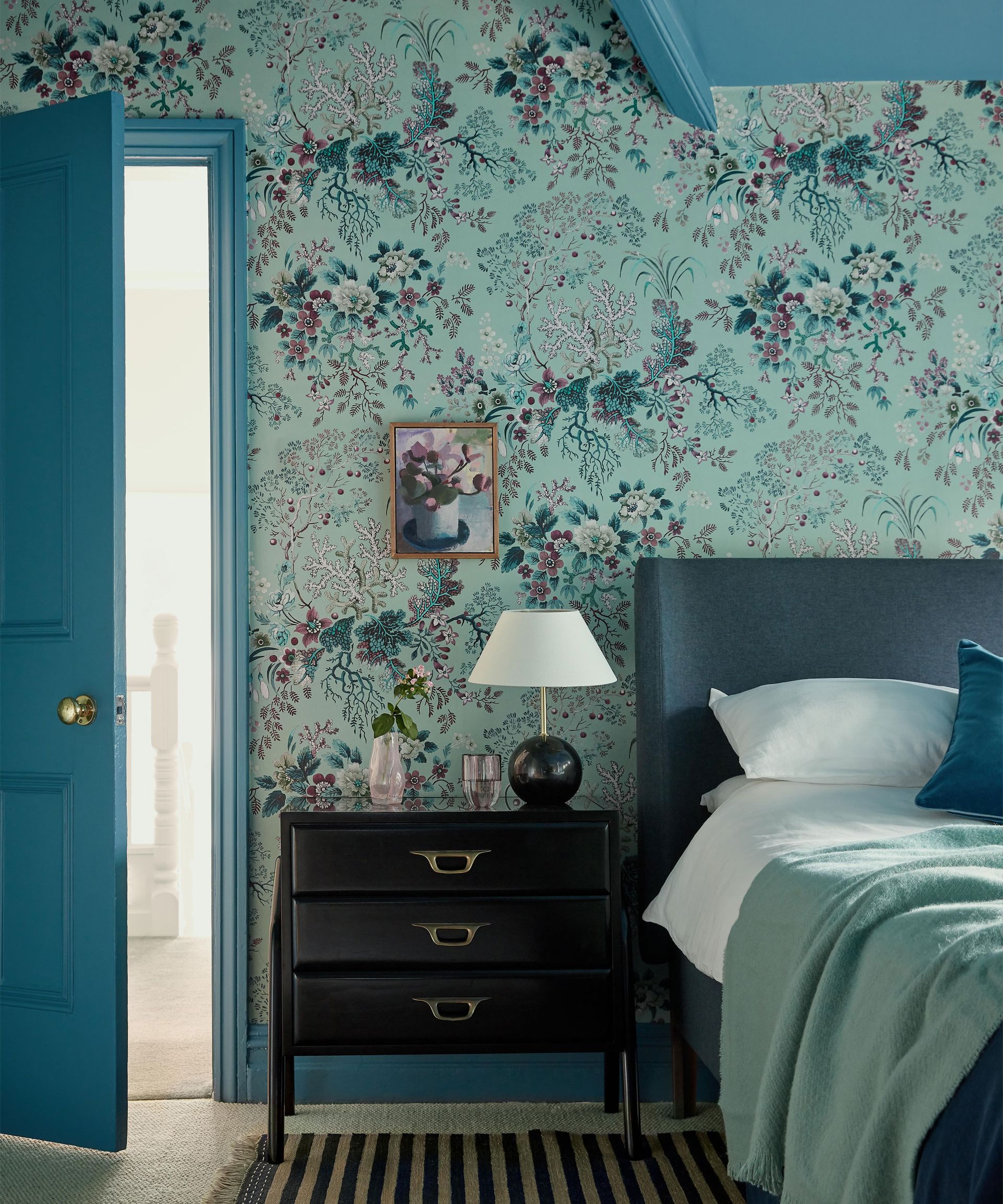 Bedroom wallpaper ideas are a popular choice for many; enriching a space with beautiful color, pattern and eye-catching visual interest, and it seems for 2023, the bigger and bolder, the better.
'We're going to see wonderfully whimsical and immersive wallpapers transform rooms into escapist sanctuaries filled with mountains, temples, clouds and dense foliage,' says Ed O'Donnell, co-founder of Angel O'Donnell (opens in new tab).
We are also starting to see the rise of more unique, textured wallpapers in the home, establishing a heightened, tactile effect, ideal for creating an enhanced feeling of comfort and texture in a bedroom.
O'Donnell goes on to say, 'densely patterned wallpapers and fabrics, nubbly wools, brushed fringes – textures will abound in 2023. Anything that beckons us to reach out and touch it, that feels good against our skin, will be top of our list.'
5. Opt for a luxurious four poster bed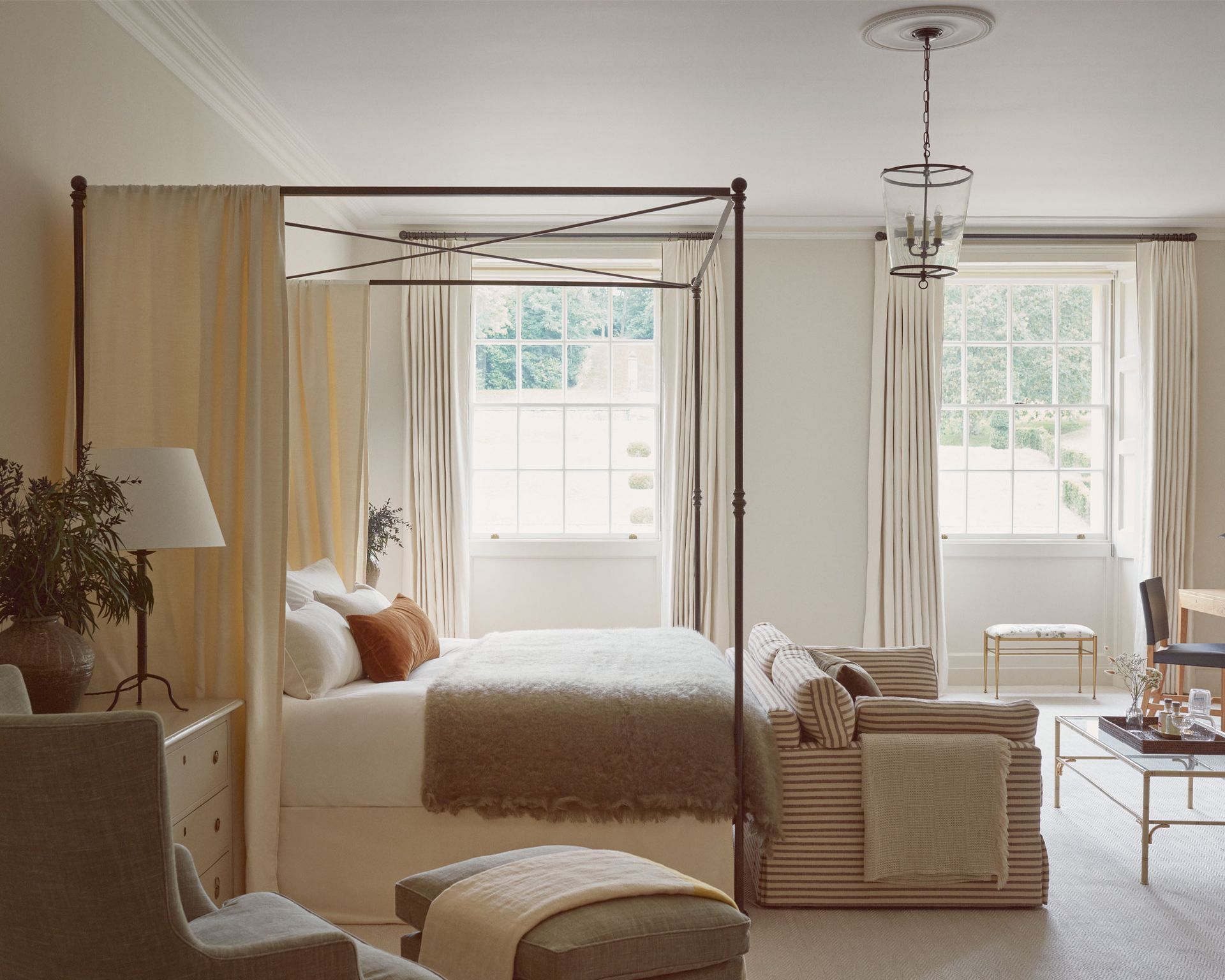 Originally crafted from solid wood and featuring thick curtains, four poster beds were often found in more period properties and luxurious hotel suites. However, as designs have adapted and changed over time, it is style that anyone can incorporate into their bedroom, with many now crafted from sleek metal and more affordable wooden materials.
Camilla Clarke from Albion Nord says, 'the grandeur and allure of the four-poster bed is enduring in 2023. We love to introduce four poster beds into our schemes. They have such an amazing impact in both large and small scale rooms. We also use a lot of half testers above the bed to add that extra layer of softness to a bedroom instead of it being a blank wall behind the bed. Although sometimes seen as traditional, four poster beds can be very contemporary, looking elegant, and making a statement in both new and old spaces.'
For further insight, explore choosing and styling a four poster bed, with expert guidance from interior designer Henriette von Stockhausen (opens in new tab).
6. Use a beautiful blue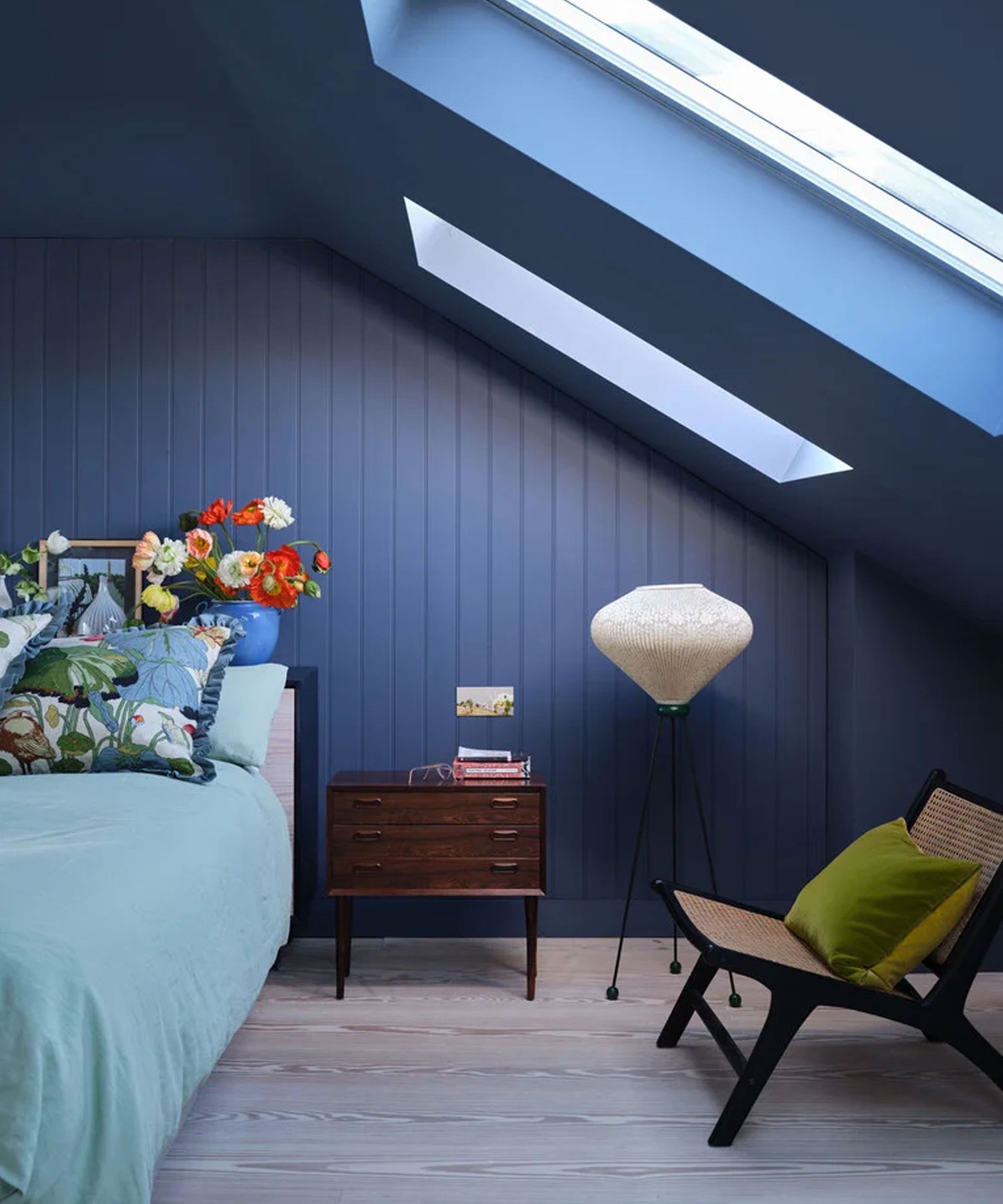 If you crave a calming atmosphere in your main bedroom in 2023 then blue – in all its variations – could be the solution. 
In this bedroom, painted in one of Farrow & Ball's (opens in new tab) new colors, Wine Dark, the color is described as, 'inspired by midnight skies, this spiritual color is named after the term Homer used to describe the sea, and is perfect to create an intimate space.'
This deep blue shade is a great choice for blue bedroom ideas, helping to establish a restful and soothing space where you feel instantly relaxed and at ease.
7. Layer your bedroom to perfection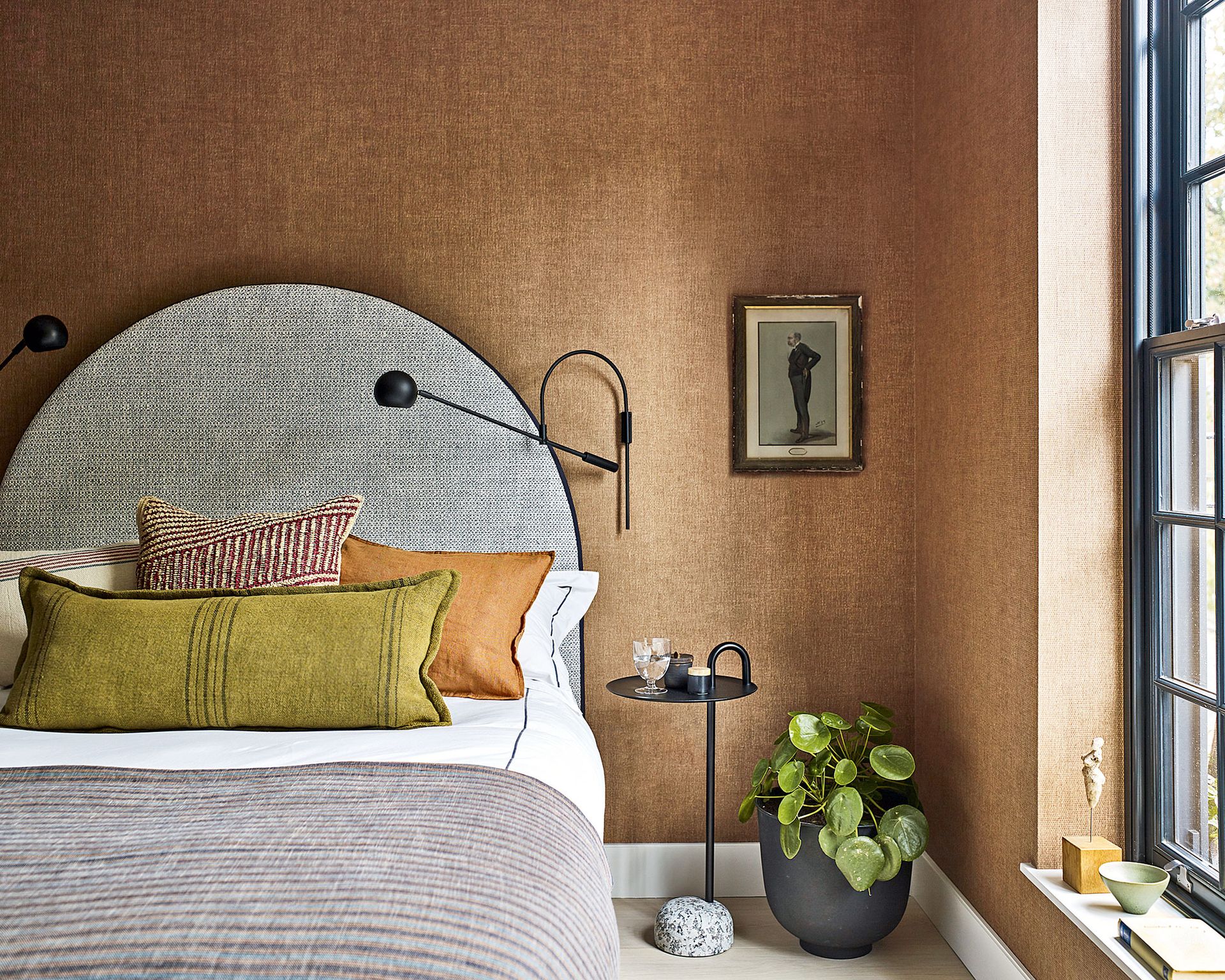 The bedroom of the 2023 is all about layering – whether that's tonal variations of color on different surfaces, a mix of patterns that playfully explore a particular palette or a dynamic blend of textures. Two or three variations of each is enough to develop a richly pleasing space that is the last thing you see at night and the first thing the next day. 
Interior designer Katharine Paravicini (opens in new tab) is adept at adding small points of visual interest to her schemes, 'interest and lots of subtle detailing are brought to the room with the use of trims on the curtains and also on upholstery. And we bring in other textures such as reeded bedside tables, brass wall lights, ceramic lamps or a rattan ceiling light.'
8. Supersize your headboard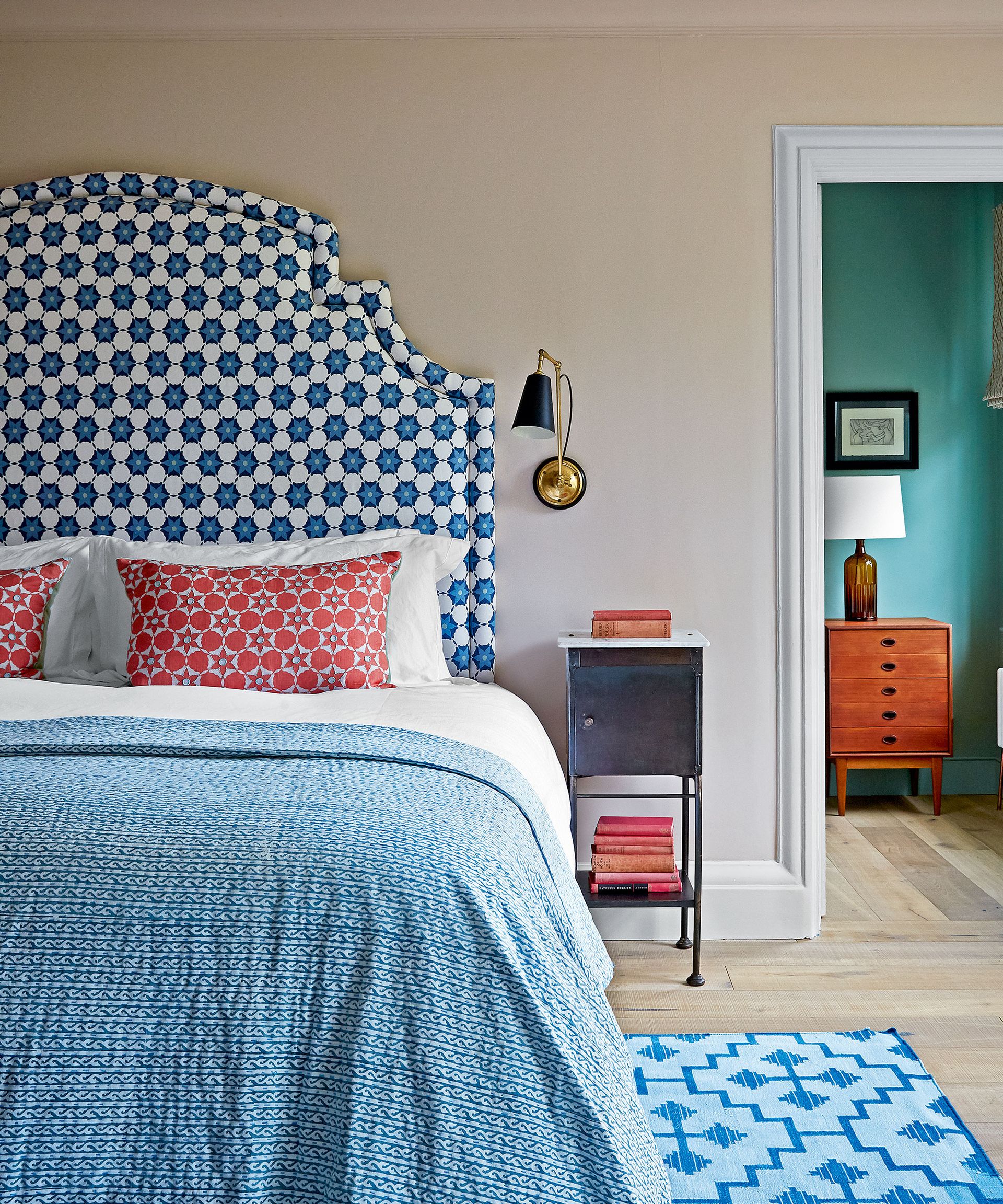 'Headboards are an inexpensive way of transforming a bedroom. They are essentially alternative forms of artwork,' advise the experts at Andrew Martin (opens in new tab).
Grand, super-sized headboard ideas have been a thing for a while now but the style is evolving. Colorful matt patterns have replaced glossy monotonal textures and shapes have become more complex. The rectangle has been superseded by curves and free-form asymmetrical pieces that are almost pieces of art in their own right. Find an upholsterer with headboard experience and discuss your ideas for shapes, sizes and fabrics before you make the order.
When it comes to buying your bed and headboard, you should really spend the most your budget will allow as this is a long-term investment. Get the largest size the room can take to give the most impact. 
'With the rise of the boutique hotel and its trending look in residential design, the headboard has become a brilliant focal point in bedroom decor. Look to the Firmdale Hotels (opens in new tab) for inspiration on using brave color and pattern, and have fun coordinating your headboard with a wallpaper or throw. Don't be afraid to choose a more outlandish style, as this only adds more character,' says Andrew Martin.
9. Use art as the backbone to your scheme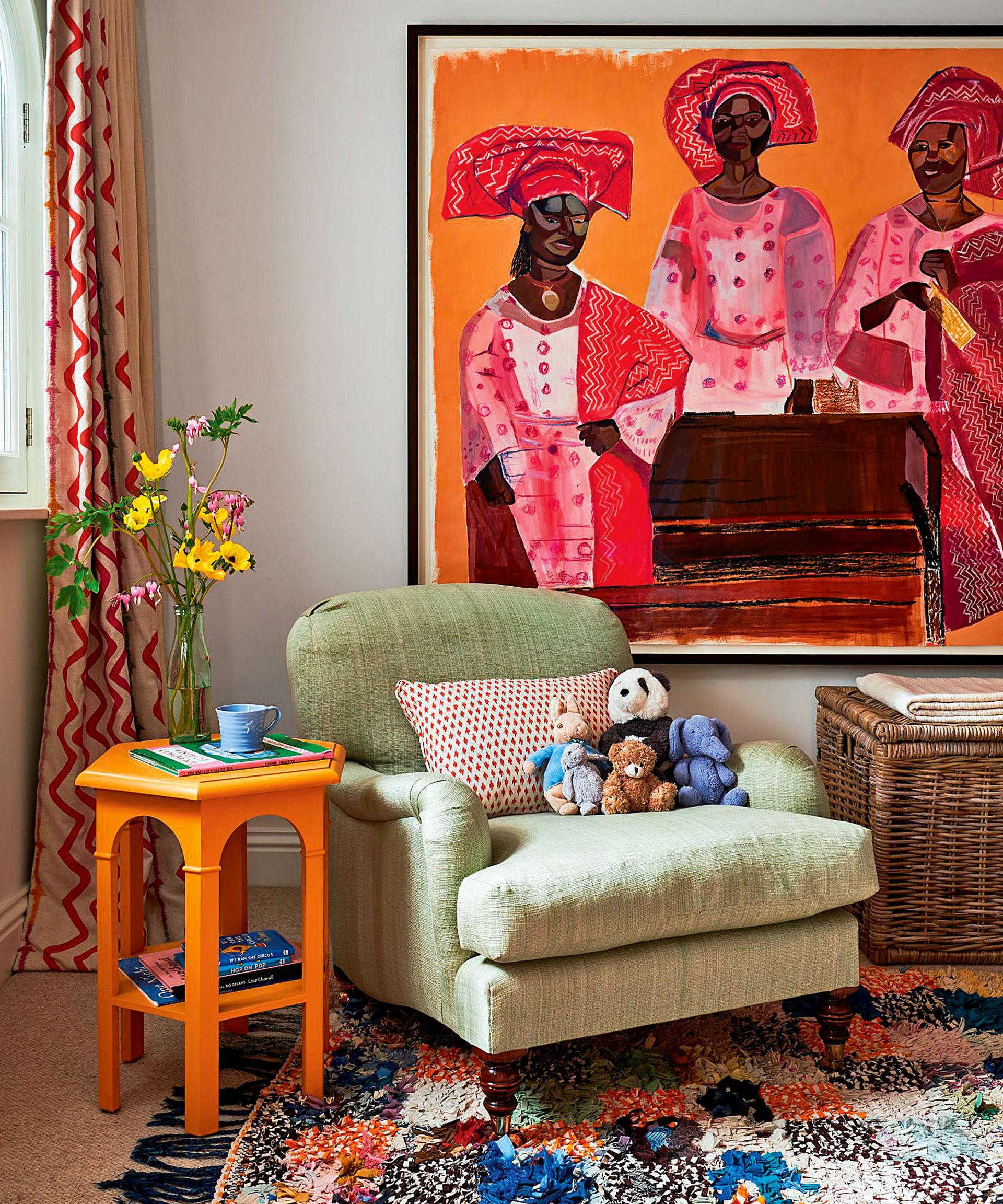 A bedroom is perhaps the most private and intimate space in the home, somewhere you can truly relax and be yourself. Art, then, is particularly significant here. 
A favorite artwork is a classic starting point for a bedroom color scheme. Make this your color cue – experiment with the colors used, select two or three, then take it from there.
'We designed this vibrant girl's bedroom to complement the client's art collection,' says interior designer Kate Guinness, who sourced the rug in Morocco.
A stunning example of bedroom art ideas, your chosen artworks can be as bold or a subtle as you like – art will always win in helping to make a room feel fully finished and more personal.
10. Have confidence when it comes to color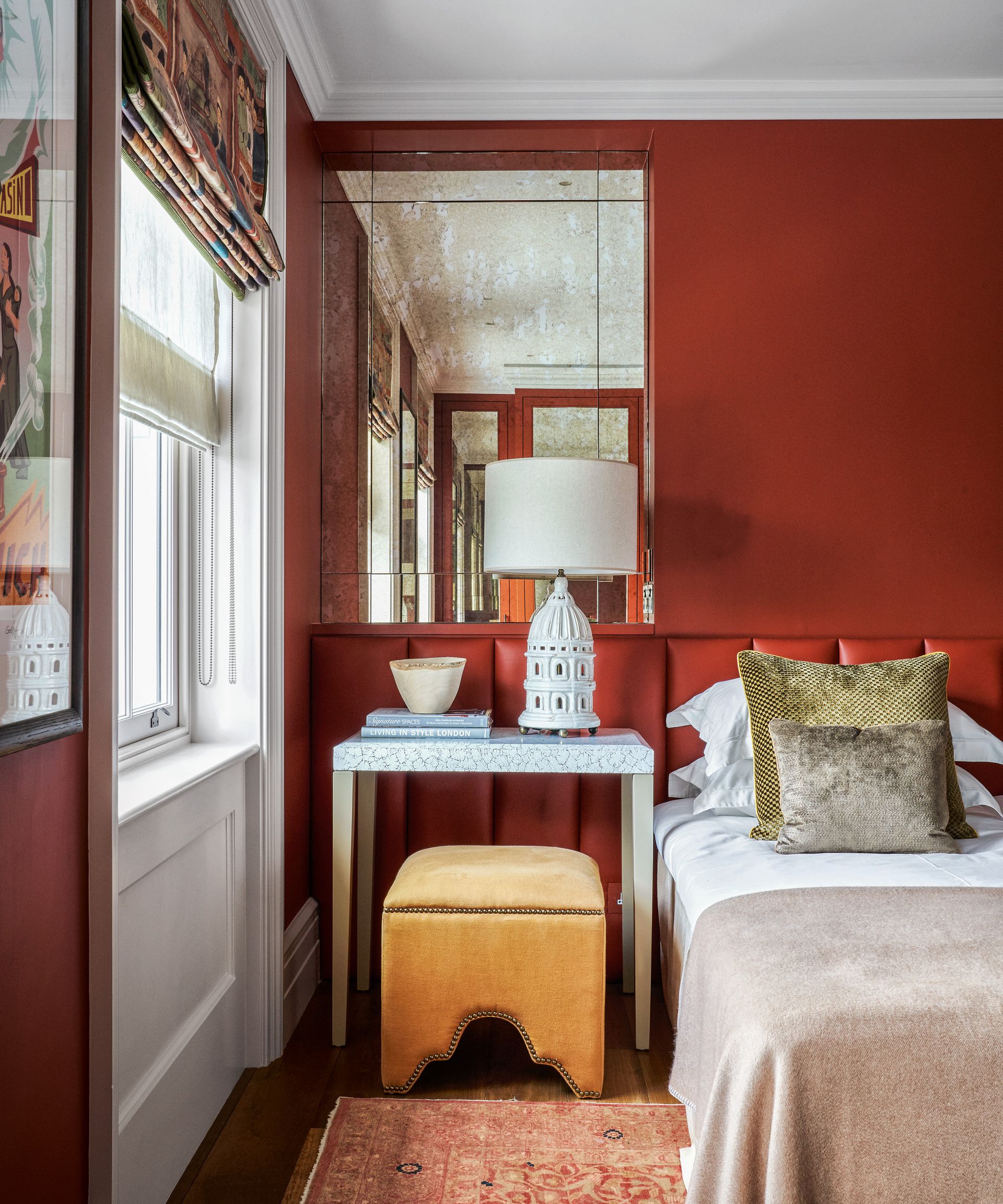 Getting the color right in a room can be a tricky business. Even with all their experience, it can take time for professionals to make a decision. There is a lot to consider – the size and shape of the space, the available natural light and its direction, who it is for, etc. However, many of us are becoming more confident with color trends in our spaces, especially after we spent so much time in our homes during the pandemic.
'A large space can often handle a blanket of color that works with both north- and south-facing light,' says Tom Morris of Morrisstudio (opens in new tab). 'If wall colors are strong, I tone down the colors in the furnishings, or vice versa.'
If you're the type who likes (or needs) a bit of get-up-and-go in the morning, consider earthy tones of red. While red bedroom ideas are not traditionally thought of as one of the best bedroom colors, these orange-red colors are at once energizing and romantic.
11. Put bedroom lighting at the forefront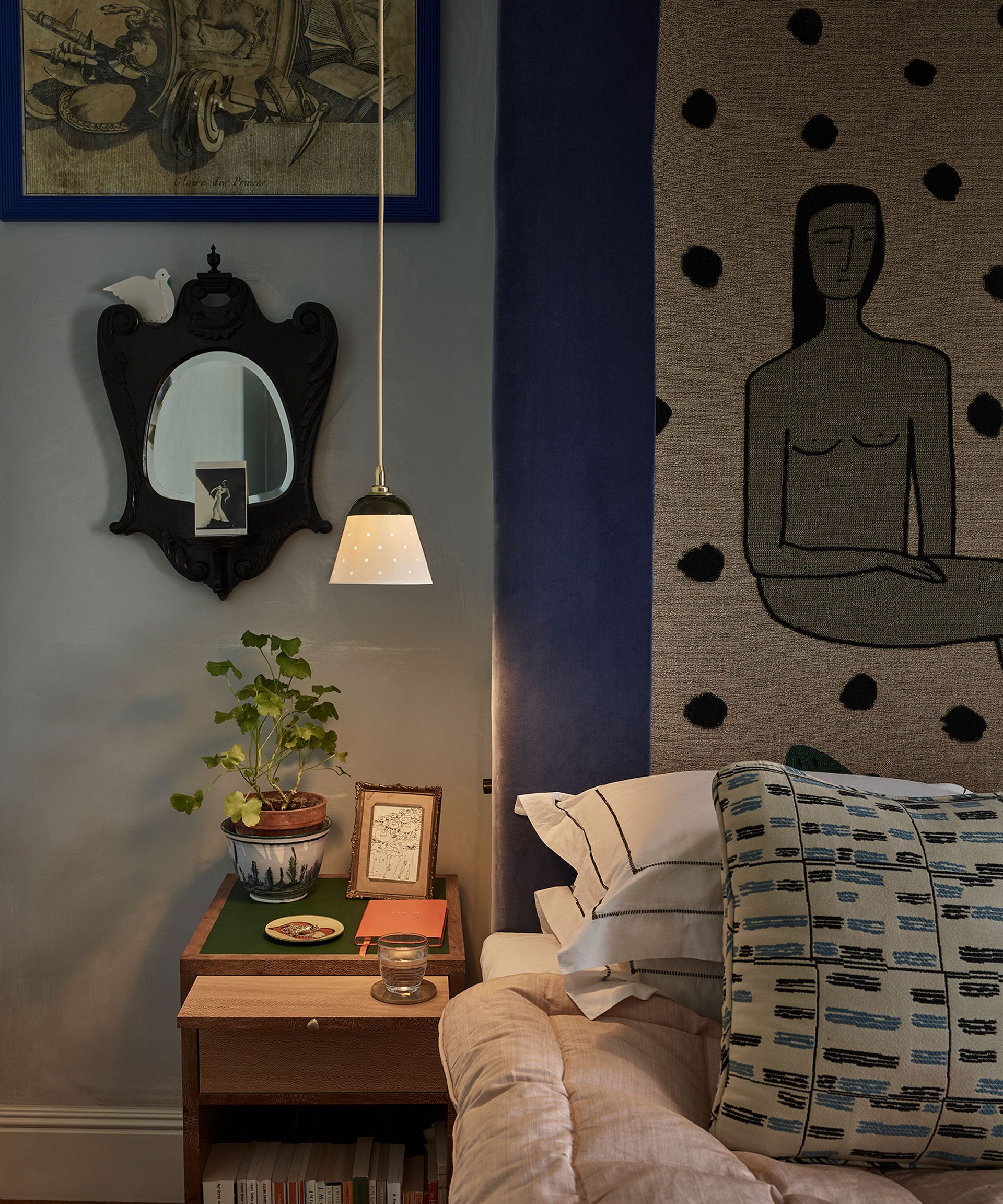 In a bedroom, different levels and types of lighting are key to switching the mood from practical – getting ready for work, say – to soothing and relaxing – when reading before going to sleep, for example. 
Lighting is also something that needs to be considered when choosing colors – the right lighting can transform a room from cold to warm in an instant.
Sarah Barker from Vanrenen GW Designs (opens in new tab) thinks about functionality as well as aesthetics when selecting the right lighting for a bedroom. 'Lighting needs to be low and atmospheric but it is important to be able to read. I am not so keen on overhead lights in bedrooms so we often use small wall lights next to the bed for additional attractive light.'
Wall lights are a popular choice for beside the bed no-doubt, but we also love this delicate, low hanging pendant design from a collaboration between Original BTC (opens in new tab) and Beata Heuman (opens in new tab), establishing a warming glow and stylish focal point beside the bed.
12. Introduce colored furniture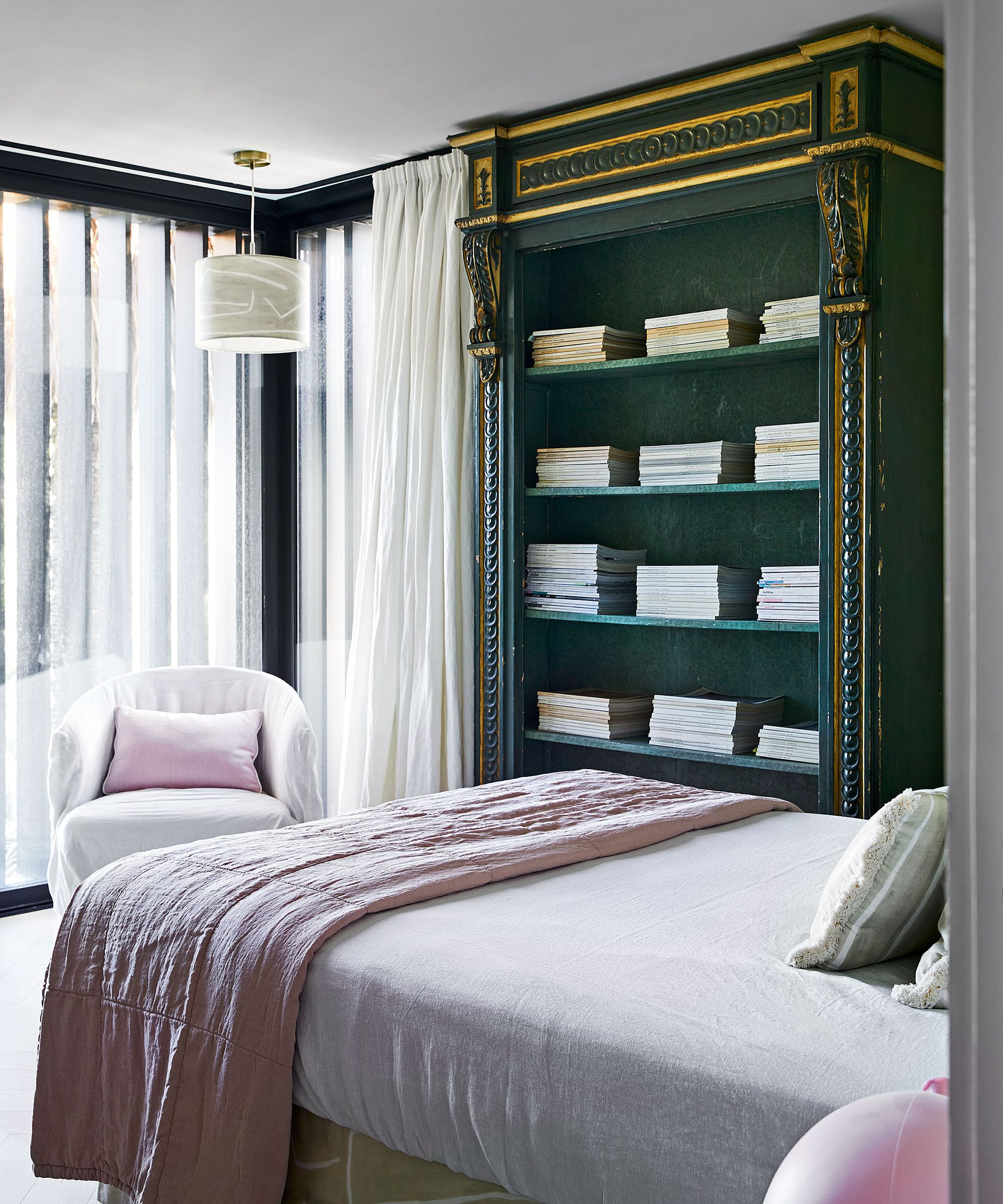 Using colored furniture or embracing painted furniture ideas (opens in new tab) makes it easier to change up an otherwise neutral space. This works particularly well for bedrooms where children may grow out of, or get tired of, particular colors and pieces. 
Sydney-based interior designer Tamsin Johnson (opens in new tab) developed this consciously sophisticated scheme with a rich green bookcase taking center stage. 
'This bedroom belongs to a little girl and we wanted to create something calm and feminine but also something that she can grow into,' explains Tamsin. 'The green antique French carved oak bookcase with soft yellow highlights anchors the room while the soft mauve linen bedding provides a tranquil element.'
13. Bring the outside in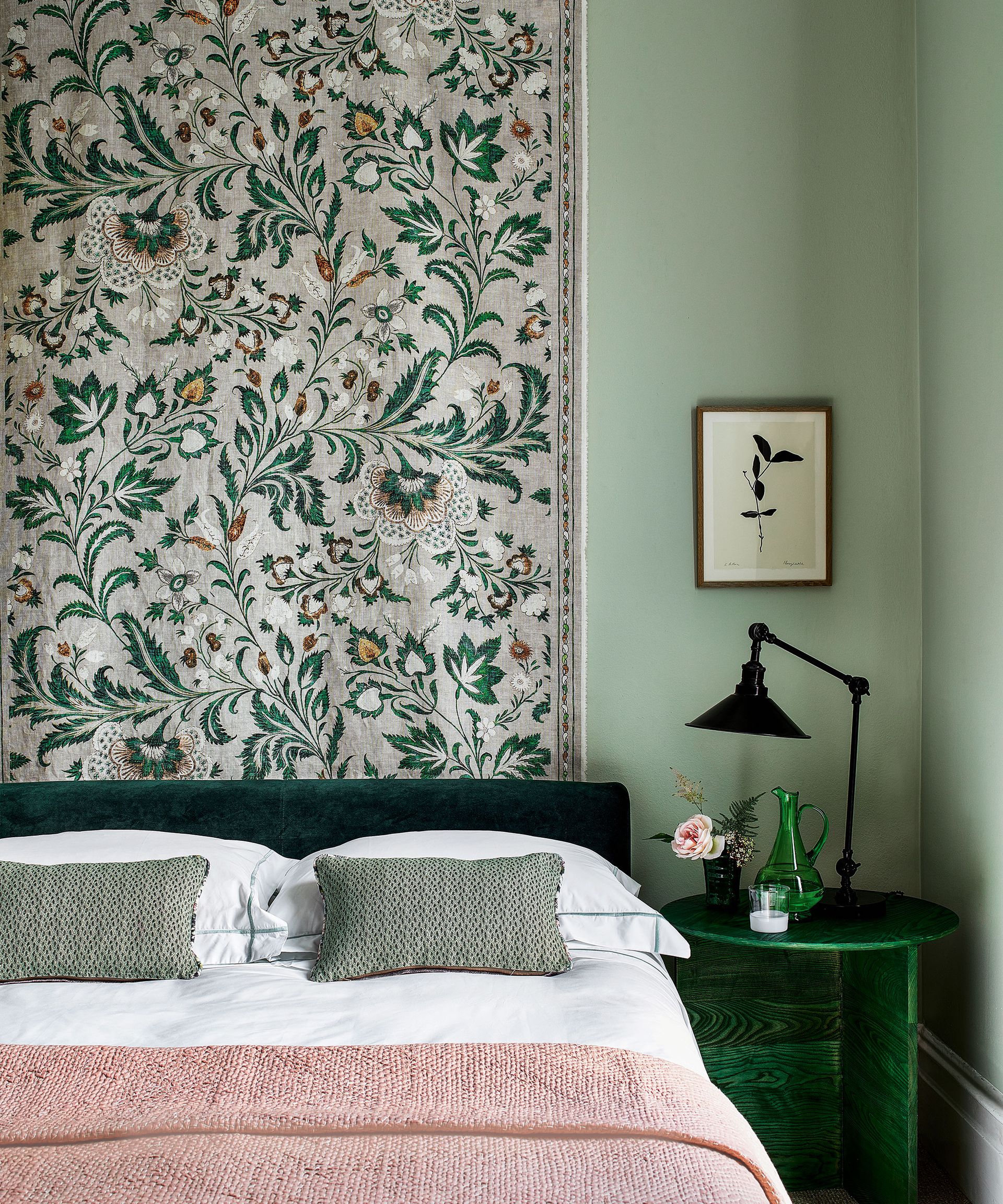 The natural world will always be a timeless influence on interior design, with green bedroom ideas remaining one of the most popular choices for homes of all ages and styles.
For a beautiful, indoor-outdoor natural bedroom scheme, complement shades of green with warming wood tones, and other natural materials such as wool and stone, or go bold with a bright botanical wallpaper, wall hanging or painting. 
We love the palette of greens used in this bedroom across the paint, furniture and accessories, with the soft pink throw, delicate pink flowers and floral notes on the wall hanging establishing an elegant contrast.
14. Clear the clutter with clever storage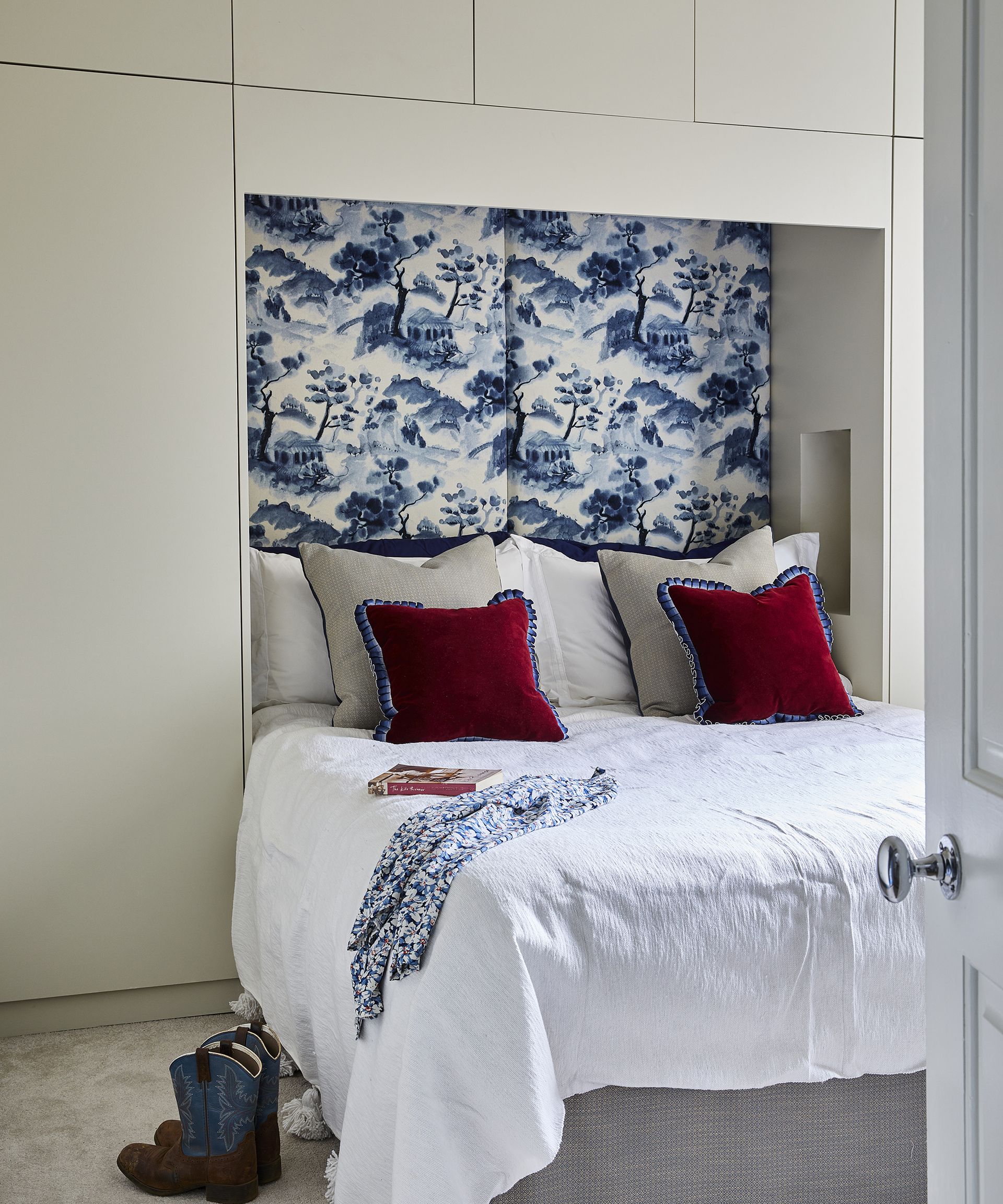 Bedroom storage ideas have become an integral part of the bedroom design process, and we anticipate that it will continue to dominate, as we aim to clear the clutter for a calm and restful bedroom, and establish the perfect balance between practical and beautiful.
'Smart, well-considered bespoke joinery can really improve not only the aesthetics of a room, but create a sense of calm as, if everything has its place and is stored away, so can the working day be stored out of sight and mind,' says interior designer Emma Green at Emma Green Design (opens in new tab).
Doug Haswell, furniture manager at Caple (opens in new tab) says, 'fitted furniture is becoming more popular for a neater finish in the bedroom. After all, research suggests that people can spend one-third of their lives in bed so it's important to make sure your surroundings are comfortable. With everything hidden behind closed doors, this will certainly improve your sleeping conditions.'
'Choose neutral colors for a more relaxing décor and consider simple door fronts with less detailing. After all, the less busy a bedroom is, the more conducive it will be for a good night's sleep. In fact, bedroom storage styles have evolved to be sleek for a smarter finish, so flush-fronted doors are popular as are more neutral shades.'
What are the bedroom trends for 2023?
'The bedroom should be a relaxing sanctuary in which to rest and recuperate,' advises Emma Deterding, Founder and Creative Director of Kelling Designs (opens in new tab) and KD Loves.
'Where previously muted, neutral tones have been popular, we are now seeing a huge move away from minimalist interior schemes with clients being more daring with design choices. From statement wallpaper and creative wall finishes, such as polished plaster, through to bold and colorful fabrics and bed linen, clients want to inject personality into their homes, and this is no different in the bedroom.'
'Headboards are once again becoming popular, with big, bold shapes in bright colors and patterned fabrics being a go-to choice. It's all about creating a focal point and making a real statement and an upholstered headboard will really allow you to show off your personality, whilst being comfortable and practical too.'
'Key colors include rich reds and oranges, mustard yellows and bold greens, with blues continuing to prove popular for a classic, timeless scheme. Nature-inspired prints are also a must-have, with prints inspired by florals and foliage to bring an element of the outdoors in.'
'We are also moving towards increased personalization when it comes to design. Bespoke, fitted bedsides with integrated power points and wireless charging provide storage for the essential items people need within arm's reach.'
What is the new bedroom color trend for 2023?
Color Expert at Farrow & Ball, Joa Studholme says, 'we have moved towards the warmer tones of nature, like deep reddish browns and terracotta, which are strong and subdued but achingly fashionable. Incredibly chic by day and cozy by night, they bring a grounded but luxurious atmosphere that is thought-provoking as well as soothing, particularly when paired with other hues found in the natural world.
'In challenging times, we crave warm tones that will enrich our homes and create cozy sanctuaries away from the outside world. Luxurious colors like red can be added to the most neutral of palettes by using them in the rooms we use at the end of the day, when we most want to relax and be comforted.'
Natasha Bradley, Lick Home (opens in new tab) color and interiors expert also says, 'we have seen a huge trend in colors that make your bedroom a calm and comforting space that you can come to after the working day. As more people look to finding a balance between work and home life.' 
These restful colors which will be popular for bedroom trends in 2023 include both blue and green, again, working a larger palette of colors influenced by the beauty of the natural world.
What is the latest bedroom trend in bedding?
As we look to make more sustainable and long-lasting choices and create comfortable environments that can provide us with a good night's sleep, more of us are beginning to invest in the best mattress, best mattress topper and quality luxury bedding for our homes. 
We spend so much time in our beds – nearly half of are lives – so it is crucial to invest in the right bedding, ensuring that your body is supported and comfortable and you feel fully relaxed and cozy.
'There's definitely a move towards relaxed bedding and comfy sheets,' says Gemma Gordon Duff from Gordon Duff & Linton (opens in new tab). 'Linen, organic bedding and chunky wool throws are hugely popular right now and add to that feeling of sanctuary.'
Is gray still in style for bedrooms in 2023?
Gray bedroom ideas are still incredibly popular, but as we spend more and more time in our home, we have started experimenting with warmer neutrals, especially in the bedroom.
According to Tiffany Duggan (opens in new tab), gray has very much been and gone, 'we love color and a fully gray palette has never really been our thing. We do love neutrals too but err towards warmer colors such as soft buttery whites, bones and plaster hued nudes. I think gray based greens and blues are lovely and a perfect foil to brighter more impactful patterns and colors but the cool, commercial greas of the last decade do seem to be fading in popularity.'
On the other hand, gray tones will always be in style because they are easy to work with,' says Natasha Bradley from Lick. 'They allow you a base shade that you can then bring other shades such as greens and blues in too. 
However, choosing the right grays for your home is really important as you can end up falling into a trap where the gray hue you have chosen ends up making your home feel dull and lifeless. When in reality the right shade of gray can make a space feel warm and sophisticated. Choosing a gray hue with a warm undertone of soft green can bring character and color into your home.'